Housing recovery not robust enough to reduce mortgage delinquencies
by Broderick Perkins

(12/14/2012) - The housing market recovery is growing equity for some homeowners, but not fast enough to offset economic conditions that cause mortgage payment delinquencies.
One of the big three consumer credit rate depositories says the national mortgage loan delinquency rate is projected to decline only to 5.06 percent by the end of 2013, compared to the 5.32 percent delinquency rate expected by the end of 2012.
TransUnion said in its recently released annual mortgage and credit card delinquency forecast, the delinquency rate is the ratio of borrowers 60 or more days past due.
"While we are encouraged by the direction of the forecast, we would have hoped for a projection that called for a more substantive drop in delinquencies. If the pace of improvement does not pick up, it will take a very long time to get back to 'normal' delinquency rates," said Time Martin, TransUnion vice president.
By TransUnion's standards, normal mortgage delinquency rates hover somewhere between 1 1/2 percent to 2 percent.
Slow equity growth
Solid, consistent home equity growth, in the past, has helped some homeowners keep their heads above water when indebtedness overcomes.
In good times, sufficient home equity can be tapped to consolidate bills to a lower single payment and to refinance the mortgage to a lower payment.
Alas, while most believe the housing recovery is underway, home values plunged by as much as 50 percent during the downturn and it could be years before many homeowners have sufficient equity to bail them out of financial distress.
"As house prices and unemployment slowly improve, TransUnion's forecast indicates that the national mortgage delinquency rate will gradually drop throughout 2013," Martin added.
TransUnion forecasts mortgage delinquencies, a foreclosure precursor, will actually rise in 13 states in 2013, while falling in 34 states and the District of Columbia.
Mortgage delinquencies are down after peaking in the fourth quarter of 2009 at the rate of 6.89 percent, after rising 12 consecutive quarters from its 1.94 percent mark in the fourth quarter of 2006 - an unprecedented 255 percent increase brought on by the housing crash and the Great Recession that followed.
As of the third quarter of 2012, three years after the peak in mortgage delinquency rates, mortgage delinquencies have dropped only 21 percent. If TransUnion's forecast is correct, the rate will have dropped only about 27 percent in four years ending in 2013, well above normal levels.
Lower delinquency rates for newer homeowners
Newer homeowners, better educated by both recent history and counseling now mandated for some mortgages, have much lower delinquency rates. Homeowners with longer tenure suffer most.
"The slow improvement pace we are experiencing right now seems to be less about new borrowers not being able to make their payments and more about existing borrowers who have been delinquent for a very long time," said Martin.
"For example, our analysis shows the delinquency rate would fall to around 2.5 percent, or pretty much normal, if we simply took borrowers who haven't made a mortgage payment in over a year out of the calculation. By comparison, pre-recession, it was unusual for a borrower to go more than 6 months without either being able to cure their situation or go through the foreclosure process," he added.
TransUnion projects the largest mortgage delinquency rate declines will occur in Nevada (down 18.62 percent), Minnesota (down 13.58 percent), California (down 12.14 percent) and Arizona (down 11.61 percent).
Even states hardest hit by the mortgage crisis are expected to see declines in mortgage delinquency rates. Florida's rate is forecast to drop by 8.39 percent, Georgia by 9.19 percent, New Jersey by 4.95 percent and New York by 7.67 percent.
Credit cards
Credit card delinquencies have fared much better because the economic crash forced consumers to switch allegiance for ready cash from home equity to credit cards.
TransUnion expects credit card delinquency rates (the ratio of bankcard borrowers 90 days or more delinquent on one or more of their credit cards) to remain relatively low throughout 2013, increasing slightly from 0.83 percent in fourth quarter 2012 to 0.87 percent in fourth quarter of 2013.
The credit card delinquency rate has averaged 1.24 percent during the fourth quarter from 2000 and 2011. In the 51 quarters since 2000, the credit card delinquency rate has only been below the 0.90 percent threshold 10 times.
"We expect much of the same in 2013 as consumers have come to rely on their credit cards for liquidity with continued high unemployment rates and a stagnant economy," said Steve Chaouki, a TransUnion vice president.
Other related articles:
First-time home buyers not always enjoying full benefits of housing recovery
Smaller mortgages, fewer foreclosures sustain housing recovery
'Shadow inventory,' national election, weather keeping consumers from low interest rates
Home buyers replace investors, easier mortgages replace all-cash deals
Investors poised to further stimulate residential real estate market
Ranks of underwater homeowners shrinking, boosting housing recovery
Fannie Mae & Jumbo Mortgage Rates
Just One Click! = Current Rate Chart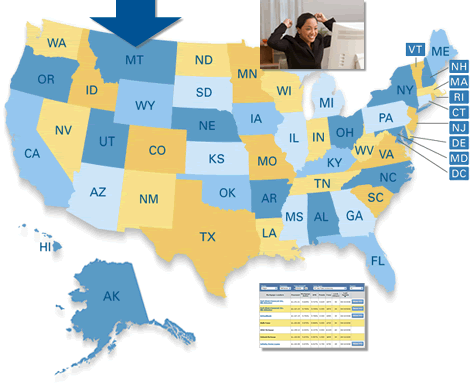 ---