The true cost of homeownership
by Broderick Perkins

(2/21/2013) If you think the cost of homeownership stops at the monthly mortgage payment, think again.
Your greatest initial and most expensive ongoing cost will likely be the mortgage payment itself. It typically includes the principal, to pay down the balance and interest, the cost of borrowing the money.
But even when the monthly mortgage payment is only an interest payment - for the few who still risk going there - there's a lot more than a mortgage payment when it comes to keeping a roof over your head with your name on it.
So, before you move out of your parents' basement, get yourself ready for the true, full costs of homeownership.
To make a serious go at being a card-carrying, home owning member of the American Dream Club, stay away from guesstimates, what-ifs and maybes.
Before you sign on the dotted line, learn all the housing costs specific to your home and your financial status. Then prepare a sizable budget to pay for those extra costs.
"Homebuyers too often rely on a friend or relative or co-worker, who just went through the home buying process. The problem with that is, all deals are unique," said Gene Mundt, a regional manager with American Portfolio Mortgage Corp. In New Lenox, IL
Can't-live-without costs
Property taxes and homeowners insurance
Beyond the mortgage payment, you typically can't own a home without also paying property taxes and homeowners insurance — even if you have no mortgage balance.
If your lender doesn't require paying prorated property tax payments and homeowners insurance along with your mortgage payment, it's a good idea to set up a payment plan. Otherwise you'll have two or more big lump sum payments for these costs at various times of the year.
Depending upon the jurisdiction, property taxes help cover the cost local services including public schools, law enforcement, firefighting and community programs including parks, civic centers and libraries.
Homeowners insurance protects you and your home from losses including fire, theft, and vandalism as well as related losses arising from legal action. Depending upon your areas, you may also have to buy flood, wind hazard or other supplemental coverage.
Insurance isn't required if you don't have a mortgage, but unless you can afford to cover otherwise insured losses, you'll have to buy it.
"It often makes sense to set-up your loan with an escrow account to manage these expenses. It's always a good idea to be ahead before you fall behind when its comes to the costs of your newly purchased home. Your lender can help you in this area before you close escrow," said Shawneequa Badger, sales manager, Silicon Valley Team with Catalyst Real Estate Professionals in San Jose, CA.
Check with your property tax jurisdiction to determine how property taxes are levied and how much you'll have to pay each year. Then budget the costs.
"In Hawaii, I have seen deals go south because the current owners are from out of state and have to pay about 40 percent more. That puts some first=time homebuyers out of the qualification for the payments," says Lance Owens with Luva Real Estate in West Hawaii.
You can, however, shop around for homeowners insurance and maintain some control over what it will cost.
"You should always shop for homeowners' insurance. Not only do rates vary, but policies and covered items can be different from company to company," said Jessi Hall, a real estate writer with Veterans United Home loans.
Unless you want to live like you reside in a tent, you'll have to pay for heating, cooling and water, as well as utilities you can live without in a pinch — phone service, Internet connection, cable or satellite TV, etc.
All these necessary and nearly necessary costs could be new to you if you are moving from your parents' home or a rental where some or all of these costs were covered.
Check with the providing utility companies for rates based on your location and potential use to zero in on the cost.
Potential costs
If you put down less than 20 percent, and didn't take out a second mortgage to cover the difference, you'll could also have to pay mortgage insurance.
Mortgage insurance protects the bank from your risk of defaulting on the loan, but you have to foot the bill for the premiums. Studies reveal those who put less down, begin with a smaller stake in their home and are more likely to default on a mortgage than those who put more down, should hard times hit.
"One big exception is a Veterans Administration (VA) loan, which allows eligible service members to access 100 percent financing without buying private mortgage insurance. It's a key benefit of the VA program that can add up to some nice savings," said Hall, also a former real estate broker and property manager.
If you buy a condo, townhome, property in a planned unit development (PUD) or co-op, you likely will have to pay homeowner association dues or fees, a monthly bill that covers the cost single-family homeowners pay out of pocket.
The fees cover the cost of running the community including management services, maintenance, repairs, and other services. A homeowners associations governing documents will tell you what you'll have to pay and conditions that can cause the fees to rise or fall over time.
Sooner or later costs
Even if you live in a condo, at some point you'll have to pull maintenance, conduct repairs and otherwise pay to keep your home running in tiptop shape. If you can't do it all yourself, you'll have to pay contractors to perform this work.
If you are able to do it yourself, you'll also have to buy the equipment necessary to perform certain tasks, perhaps a lawnmower, hedge trimmer, ladders, pool sweep, shovels and rakes, tools, etc. The older the home, the more you'll pay for upkeep. Ask the seller about upkeep costs.
The same applies to home improvements and additions that can increase the value of your home, but also bump up your property taxes and utility costs if you increase square footage.
"Your life doesn't stop just because you buy a home," says Michele Serro, founder and CEO of Doorsteps, a free online tool to help educate and guide homebuyers through the process.
"Even if you can afford a mortgage and everything else that comes with it, consider what else is coming up in your life. Do you want children? A second degree? A change of career?" asks Michele Serro, founder and CEO of Doorsteps.com, a free online tool to help educate and guide homebuyers through the process.
"You need to recognize that your monthly expenses may go up dramatically for other reasons beyond your house and ensure you've got enough wiggle room to accommodate your changing life stages," Serro added.
Other related articles:
No-marriage mortgages between couples are red flag parades
How much house will a conforming loan buy?
Real estate agents' role in the mortgage application process
Home equity line of credit vs. home equity loan
Mortgage rates forecast to rise, albeit slowly in 2013
More underwater homeowners emerge from negative equity
Federal programs offer special homeownership opportunities for poor, rural households, including 1% mortgages for 38 years
20.6 million homeowners are mortgage free - for better or for worse
HAFA enhancements due next year
VA loans a major benefit for military veterans, 2.5 million veterans unaware VA loans exist
'Hell No!" say one in four renters, they won't go for home ownership
Fannie Mae & Jumbo Mortgage Rates
Just One Click! = Current Rate Chart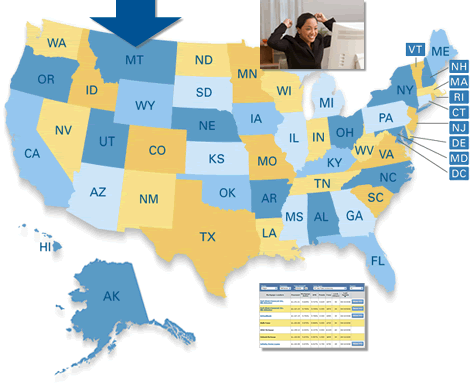 ---