Online mortgage videos a good mortgage news supplement
by Broderick Perkins

(4/16/2013) - Just as cable, network or local television news can't give you the insight or analysis you can get from a well-produced, written news story, online videos come up short in the in-depth department.
However, what videos do is appeal to our hurry up, tech driven, 21st Century way of life. Videos can offer a primer on subjects of interest and do it in a matter of minutes.
While you can't apply for a mortgage through a video — yet — you can learn the difference between a fixed rate mortgage and an adjustable rate mortgage as well as get the latest mortgage news.
An introduction to a subject or the skinny on some facet of a subject is often how consumers decide to dig deeper for more infation - and the message is in the powerful medium.
Video - first as television in a tube, now as digital broadcasts — has always been a visceral and visual grab-and-take-hold, attention-getting medium.
Video is likely to remain a leading tool for information delivery, at lease until holograms, nano-implants or the next video generation takes hold — especially in real estate.
Videos are hot
"The Digital House Hunt: Consumer and Market Trends in Real Estate," a joint study by the National Association of Realtors and Google said 54 percent of home shoppers who use videos in the process do so to obtain general information.
Only touring inside a home (70 percent) and finding out more about a specific community (86 percent) scored higher for obvious reasons — the seeing-is-believing visual impact.
The same study found that the most popular destination for homebuyers seeking out videos was Google's YouTube, at 51 percent, followed by brokerage websites, 41 percent; Google video, 37 percent; consumer generated online reviews (like this one) in any location, 35 percent and aggregator listing websites, 33 percent.
None of this is lost on the National Association of Realtors (NAR).
Late last year Realtor.com launched the Realtor.com video on demand channel on the Cox Cable network to offer property listings in high-density format to 55 million homes using the cable network.
Mortgage videos to see
Consumers also clamor for mortgage information and while it's difficult to explain in a video the mortgage securitization dilemma that helped send the economy into a tailspin, video is effective at doling out mortgage basics in just a few minutes — or less.
Unfortunately, it's tough to find real broadcast quality, professionally done, mortgage videos on YouTube alone, where most home shoppers go for videos, but we managed to come up with some winners.
• Journalist, author, web publisher and the "Suze Orman of Real Estate Information," (we mean that in a good way) Ilyce Glink regularly produces the most professional, TV-quality videos in the bunch - Real Estate Minutes from her Expert Real Estate Tips channel on YouTube.
Glink's videos are concise, current and plentiful on a variety of mortgage subjects and other real estate topics.
• On the Money Talks News (MTN) channel we aren't quite sure how to take correspondent Stacy Johnson CPA — as too over-the-top and in-your-face or as a hard core, old-school "man on the street" style announcer.
Either way, Johnson uses his technique to get the job done by keeping you riveted to videos with lots of action, interspersed with check lists, charts, graphs and other visual stimuli. His videos is like that ad jingle stuck in your brain.
• The EasyMortgageAnswers channel (aka Moving Forward TV) needs to decide on a set, name and format and stick to it.
Otherwise, the channel's large selection of older mortgage news and information videos of varying lengths helps offset the off-putting giggling and silliness found in some of the newer videos.
• Over at the Delaware Mortgage channel, mortgage broker John Thomas consistently delivers one of the best mortgage interest rate update videos.
Thomas doesn't just spout out a list of the latest mortgage rates but adds news, commentary and analysis to explain why rates moved up or down.
His from-behind-the-desk broadcasts also help mortgage consumers decide what they should do about the direction of mortgage rates.
Other related articles:
The Best Way to Avoid Foreclosure......turns out it's finding a job!
How much home will the median price buy?
High-cost areas benefitting from jumbo loan boom
Mortgage credit slowly loosening, but many restraints still in place
What's to learn from homeownership counseling?
What can you do about higher FHA loan costs? Not a lot
Fundamentals apply when applying for a mortgage
Larger down payment prompts lender, seller largess
The true cost of homeownership
Fannie Mae & Jumbo Mortgage Rates
Just One Click! = Current Rate Chart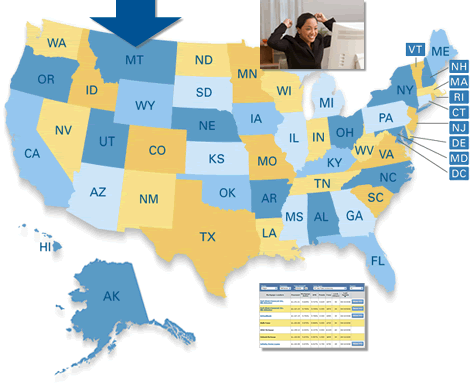 ---