Mortgage banker vs. mortgage broker
by Broderick Perkins

(2/25/2013) - The question isn't "Will you get a better deal from a mortgage broker than you will from a mortgage banker?"
The question is "Why shouldn't you shop both mortgage brokers and lenders to find the best mortgage available, in terms of coming up with the mortgage that's best for you?"
Or as Jessi Hall, a real estate writer with Columbia, MO-based Veterans United Home Loans puts it: "A mortgage is not just a mortgage. It's a specialized financing instrument that varies by buyer, property and lender. With so many variables at stake, finding a lender and a loan to fit your unique needs is an essential, and sometimes time-consuming, process."
Shop around
A JD Power and Associates study reported consumers who shop solely with mortgage brokers were more satisfied with the mortgage acquisition process than those who shopped solely with a direct lender.
However, the study also said consumers were more satisfied when they contacted a broker, but then went on to apply directly with a lender.
The key to the study's findings is that the most satisfaction for borrowers came when they shopped both shops, no matter where they ended up.
And satisfaction typically means saving money.
Lenders are mortgage vendors and typically offer a set number of mortgage programs the bank or mortgage lender itself finances.
Lenders create a finite number of mortgages based on the risk they are willing to accept, because their capital is at risk. The lender underwrites the loan and assumes all credit, compliance, and fraud risk associated with a loan.
Because their bottom line comes with risk, the rates tend to be a bit conservative, compared to brokers, but not always.
Some lenders cover their assets by not risking making loans to borrowers with bad credit, little job tenure, high debt levels and insufficient savings.
However, if you have existing accounts with the lender you choose to finance your mortgage, you could cash in on that existing relationship, especially long time relationships.
Joy Bender, a luxury home specialist with Prudential California Realty in La Jolla, CA says relationships are important.
"Luxury home buyers are inclined to pay all cash. However, after suggestions to inquire with their private mortgage banker, they often find out their interest rate and terms create an attractive arbitrage," said Bender.
"I had one scenario where a buyer had to purchase all-cash with a five-day close to negotiate the best price on the property. Due to his private banking relationship, the mortgage banker was able to cash him out 10 days after the close of escrow with purchase money interest rates. Cash-out transactions typically need seasoning and have an interest rate adjustment," she added.
Mortgage brokers are sort of middlemen between borrowers and banks.
They have access to wholesale rates on loans from a host of lenders. Brokers don't share the capital risk of writing the mortgage and can be more flexible in terms of steering consumers to a larger variety of mortgages.
The mortgage broker helps the consumer choose a mortgage, prepare the mortgage application and may even help negotiate borrowing terms, but not always. The more mortgages the greater shot the broker has at the lowest rates, theoretically.
As a middleman, the broker primarily wants to originate the loan and get paid. The broker has no responsibility once the loan is closed.
"If you've got a 9 billion FICO score and lots of cash and you are clean as a whistle, you can go to Fremont Bank and you'll get a rate of minus 17 percent," said John V. Pinto broker/owner of Realty World-John V. Pinto & Associates from Napa and Silicon Valley, CA.
"But if you need a little help, not sure if you are going to go 3.5 percent down or with an Federal Housing Administration (FHA) 95 percent loan, you sometimes go with a mortgage broker because they can package a loan for you," Pinto added.
Again, the key is to shop both brokers and lenders to get the best of both worlds, says Shashank Shekhar, CEO of Arcus Lending.
"With more program options, better rate shopping and usually better service levels, mortgage brokers are definitely a better bet for borrowers. But like everything else, not all brokers are created equal. So the borrowers need to research their credibility and reputation before moving forward," Shekhar said.
But he added, "What works for lenders is the fact that they control the underwriting process. But then again, almost all loans are currently being underwritten per Fannie Mae/Freddie Mac or FHA guidelines. So I don't see much benefit there as well."
Other related articles:
Real estate agents' role in the mortgage application process
Home equity line of credit vs. home equity loan
Room for risk? Hybrid ARMs at 29-year lows
Federal programs offer special homeownership opportunities for poor, rural households, including 1% mortgages for 38 years
Many consumers would sign up for Wal-Mart, PayPal mortgages
Mortgage shoppers still leaving money on the table
Consumers prefer candid, transparent mortgage originations
Fannie Mae & Jumbo Mortgage Rates
Just One Click! = Current Rate Chart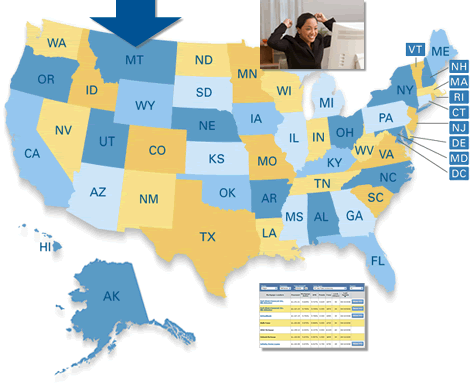 ---