VA loans a major benefit for military veterans, 2.5 million veterans unaware VA loans exist
by Broderick Perkins

(12/11/2012) - As a hard-earned and well-deserved reward for serving the nation - often in life-threatening war zones - Veterans Administration (VA) home loans for GI's and their families are loaded with perks you can't get anywhere else.
Unfortunately, more than one in three veterans who did not use the VA Home Loan Guarantee Program reported they didn't use them because they didn't know they existed.
That amounts to about 2.5 million veterans who are unaware of the special VA home loan benefit for veterans.
Among the nation's estimated 22.2 million vets, about 15 million have used a VA loan and 7.5 million have not.
Among vets who didn't use a VA loan, more than 33 percent indicated they didn't know about the loan, according to a survey of veterans by VA Loan Captain (VALC), a veteran-owned VA loan consulting company, known as the "LendingTree for VA home loans," according to company president Grant Moon, who moonlights as a VA home loan writer for Military.com.
Also, when veterans were asked if they understood VA home loan benefits available to them, only 41 percent said they understood "A lot" or "some." The remaining 59 percent understood the benefits less, according to VALC's survey.
That's unfortunate.
VA home loan advantages
VA loans are loaded with benefits for veterans with suitable credit, sufficient income, and a valid Certificate of Eligibility (COE). VA loan benefits for past military service members are tough to find in the open market and include:
• No down payment as long as the sales price doesn't exceed the appraised value.
• No private mortgage insurance premium requirement.
• Limits on the amount charged for closing costs.
• Closing costs can be paid by the seller.
• No penalty fees for early pay offs.
• You don't have to be a first-time homebuyer.
• Vets can reuse the home loan benefit again and again.
• VA-backed loans are assumable, as long as the person assuming the loan qualifies.
The favorable terms stem from the federal guarantee that covers a portion of the mortgage if the borrower defaults. With federal insurance coverage, lenders face less risk and are able to provide more favorable terms than those typically available to civilians.
VA loans also aren't just for home purchases.
• Cash Out Refinance loans allow veterans to tap home equity for cash.
• Interest Rate Reduction Refinance Loans (IRRRL), also called Streamline Refinance Loans, can help veterans obtain a lower interest rate by refinancing your existing VA loan.
• Native American Direct Loan (NADL) Program helps eligible Native American veterans finance the purchase, construction, or improvement of homes on Federal Trust Land, or reduce the interest rate on a VA loan.
• Adapted Housing Grants help veterans with a permanent service-connected disability purchase or build an adapted home or modify an existing home to accommodate their disability.
More results in VALC's extensive study are available in the infographic below. Mouse over and click to expand.
Other related articles:
First-time home buyers not always enjoying full benefits of housing recovery
Mortgage shoppers still leaving money on the table
FHA poised to raise loan costs - again - in 2013
National Mortgage Settlement reaches out to military personnel
Federal regulators order mortgage servicers not to violate military servicemembers' homeowner rights
Homeless Vets Get a New "Lease" on Life: HUD Provides Funding for Housing
Fannie Mae & Jumbo Mortgage Rates
Just One Click! = Current Rate Chart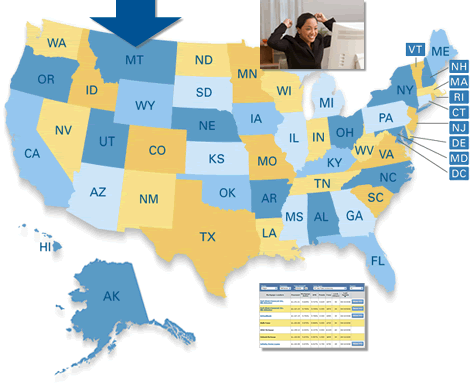 ---