Smaller mortgages, fewer foreclosures sustain housing recovery
by Broderick Perkins

(11/15/2012) - A more frugal approach to homeownership and dwindling foreclosures provide further evidence the housing recovery is holding its own.
More home owners are reducing mortgage terms and loan balances than they did at the height of the housing boom and foreclosures are falling by double digits in most states.
That's rounding out other good news from the slow-but-sure housing recovery.
"What a healthy housing market should look like will dismay those who keep comparing housing to what it was during its peak years. However, taking into account recent trends, key housing indicators and the shifting demographic patterns that will define a new and realistic trajectory toward a healthy housing market, the long-term prognosis is promising," said Frank Nothaft, Freddie Mac, vice president and chief economist.
Nearly one in three refinancing homeowners (29 percent) reduced their loan term in the third quarter and an equal percentage reduced their mortgage balance by adding cash to the deal. At the height of the housing market, only 10 percent were reducing their loan term and only 5 percent were adding cash to the deal, according to Freddie Mac's "Quarterly Product Transition Report."
Uncertain how the economy will fare as the New Year's 'fiscal cliff' looms with the potential for higher taxes and fewer unemployment benefits, homeowners are taking a better-safe-than-sorry approach by reducing their mortgage balance. With home values already improving, those actions will help further boost home equity and give homeowners a fluffier financial cushion to weather slow economic growth.
"Compared to a 30-year fixed-rate mortgage, the interest rate on a 15-year fixed was about 0.7 percentage points lower during the third quarter. For borrowers motivated to refinance by low fixed-rates, they could obtain even lower rates by shortening their term. Further, a shorter-term, fully amortizing loan reduces the loan balance faster and builds home equity sooner," said Nothaft.
Freddie Mac also reported more than 95 percent of refinancing borrowers chose a fixed-rate loan. Also, 82 percent of borrowers who had a hybrid ARM chose a fixed-rate loan.
A fixed rate mortgage offers homeowners the certainty of a fixed mortgage payment every month and a better shot at budgeting for years to come.
Refinancing homeowners also gained ground financially by cashing in on lower interest rates.
"Fixed mortgage rates averaged 3.55 percent for 30-year loans and 2.84 percent for 15-year product during the third quarter in Freddie Mac's Primary Mortgage Market Survey, well below long-term averages and the lowest quarterly averages recorded in our survey," Nothaft said.
Foreclosures down
Meanwhile the 186,455 foreclosures in October were down 19.17 percent on the year and well below RealtyTrac's reported record monthly high of 367,056, set back in March 2010. The highest number of foreclosures for any October on record was 332,292, according to RealtyTrac.
Bank repossessions were also down for the past 24 consecutive months to 53,478 in October, down 21 percent from a year ago.
Some larger states continued to have high annual increases in the number of foreclosures including New Jersey (up 140 percent), New York (up 123 percent), Connecticut (41 percent), Maryland (up 27 percent), Ohio (up 24 percent) and Illinois (up 19 percent). In Florida, foreclosure numbers dropped more than 12 percent, but the state posted the nation's highest foreclosure rate, with one in every 312 housing units facing a foreclosure filing in October. Other states with high rates of foreclosure included Nevada, Illinois, California and Arizona.
Preventing a full-blown boom, some clouds continue to hang over the housing recovery.
"Unfortunately, the three states dealing with the biggest rebound in deferred foreclosure activity — New Jersey, New York and Connecticut — also had to deal with the devastation to homes inflicted by Superstorm Sandy," said Daren Blomquist, vice president of RealtyTrac.
"The foreclosure moratoriums being put into effect as a result of the storm will likely extend the already-lengthy time to foreclose in these states, further prolonging a fundamentally sound housing recovery," Blomquist added.
Other related articles:
The Best Way to Avoid Foreclosure......turns out it's finding a job!
National Mortgage Settlement reaches out to military personnel
Foreclosures: The unnatural disaster
Homeownership elusive more than 10 years after foreclosure
'Shadow inventory,' national election, weather keeping consumers from low interest rates
Good news in foreclosure rescue scam reports tracking to double in 2012
Housing crisis spawns mortgage market distrust, disdain, bitter desire to extract retributions
Refinancing homeowners rushing out of ARMs, into shorter term loans
Why FRMs are strong and ARMs are weak
Fannie Mae & Jumbo Mortgage Rates
Just One Click! = Current Rate Chart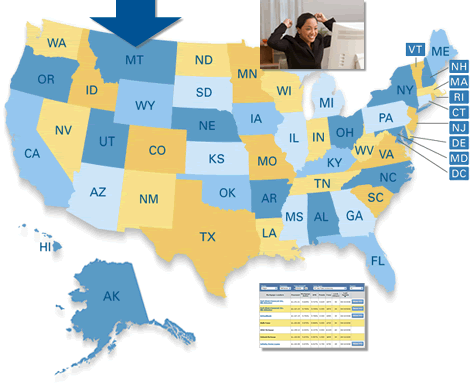 ---