Site to See: McGruff growling to take a bite out of mortgage fraud crime
by Broderick Perkins

(11/30/2012) - McGruff is in the house.
With its iconic crime-fighting watchdog McGruff off the leash, the National Crime Prevention Council (NCPC) has picked up the scent on mortgage fraud.
U.S. Department of Justice funding allowed NCPC to create an online public outreach program to fight mortgage fraud, a scourge that targets homeowners already victimized by questionable lending practices and hard times.
The U.S. Treasury's Financial Crimes Enforcement Network (FinCEN) recently reported the number of foreclosure mortgage fraud reports in the first half of 2012 was so high it nearly equaled those from all of 2011.
The same agency said mortgage fraud was up 31 percent the year before.
The U.S. Department of Justice's (DOJ) Federal Bureau of Investigations (FBI) reports a host of prevelant mortgage fraud schemes in foreclosure rescue, real estate investment, equity skimming, short sale, illegal property flipping, title/escrow/settlement, commercial loan, and builder bailouts. Home equity line of credit (HELOC) fraud, reverse mortgage fraud, and fraud involving loan modifications are also a concern.
Mortgage fraud often includes conspiracy, collusion, racketeering and other criminal behavior found in organized crime.
NCPC says:
• Mortgage fraud is one of the fastest growing financial crimes in the history of the nation.
• Mortgage fraud contributed to the dramatic rise in the number of vacant and abandoned properties across the country since 2008.
• Mortgage fraud exacerbates foreclosure-caused conditions that include devastated communities, heightened crime, lower property values and emotional despair so acute it sends foreclosure-blighted neighborhood residents to the hosptial.
• Prosecutors consider mortgage fraud to be among "the most economically destructive crimes prosecuted by their offices," according to Patrick Leahy, co-sponsor of the Fraud Enforcement and Recovery Act.
Arresting mortgage fraud
Working with law enforcement to bust mortgage fraud criminals, NCPC opened its new online mortgage fraud resource center to help consumers get in the fight and protect themsleves.
Along with public service announcements, flyers, posters, podcasts, webinars and other tools for both consumers and their adovoctes, NCPC's spring 2013 Mortgage Fraud Virtual Conference will offer lessons in mortgage fraud, preventative measures for avoiding it and what resources are available for victims.
NCPC's online resources also include links to consumer agencies that assist fraud victims, including the DOJ's Office for Victims of Crime, the Obama Administration's Financial Fraud Enforcement Task Force, the HOPE Now Alliance and other resources.
McGruff also barks out these mortgage fraud red flags:
• Empty promises. Do not respond to offers that promise "No Credit, No Problem" or "No Down Payment," among other come-ons.
• A pack of lies. Refuse to falsify your income or make misleading statements on loan documents.
• Incomplete documents. Never sign a blank document or a document that contains blank lines.
• Feigned impatience. Don't allow anyone to give you unreasonable deadlines or pressure you to sign a contract. Read contracts thoroughly and understand what you are signing.
"Site To See" is series of reviews of content-heavy websites deemed unique, consumer-friendly, informative and easy to use.
Other related articles:
Consumers prefer candid, transparent mortgage originations
Good news in foreclosure rescue scam reports tracking to double in 2012
Mortgage Fraud: An In-Depth Look at a Hot Topic
Robo-Signing: A Deeper Look at Continuing Fraud
Understanding Mortgages: Where to Get a Mortgage
CFPB: Consumers complain about mortgages more than any other financial service tracked
Impending federal rules prompt mortgage servicers to clean up their act
Mortgage fraud up more than 30 percent last year
SEC sues former Fannie, Freddie execs for mortgage securities fraud dating back five years
No shortage of short sale fraud
Fannie Mae & Jumbo Mortgage Rates
Just One Click! = Current Rate Chart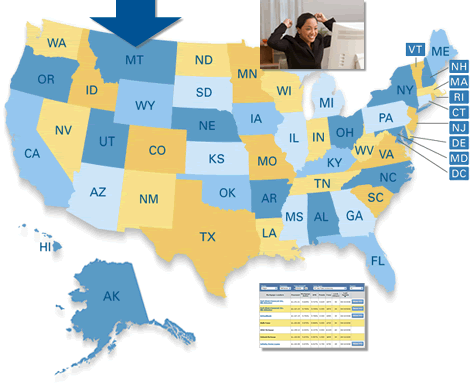 ---