National Mortgage Settlement reaches out to military personnel
by Broderick Perkins

(11/14/2012) - Veterans Day came this year with the National Mortgage Settlement deploying military-specific outreach for members of the armed forces.
The $25 billion National Mortgage Settlement, largely for civilians, also came with special provisions for military veterans and service members who became victims of foreclosure abuses or who were wronged in the mortgage process.
Military families struggling with mortgages warrant special attention because they suffer a unique and more complicated set of circumstances than those experienced by civilians.
"The National Mortgage Settlement has particular provisions specific to service members, and we want to make sure they're aware of them. I also want to know if any of our nation's veterans are experiencing wrongful treatment from their mortgage servicer, as it will help me better oversee the settlement and ensure they find appropriate counsel for their issue," said Joseph A. Smith, Jr., monitor of the settlement.
The outreach is timely because the deadline for all claims under the National Mortgage Settlement is January 18, 2013.
Special military provisions
Generally, the National Mortgage Settlement requires Bank of America, Citibank, JP Morgan Chase, Wells Fargo and Ally Bank to address foreclosure abuse suffered by those who lost their homes from Jan. 1, 2008 to Dec. 31, 2011, but the period is longer, under both the settlement and pre-existing regulations that protect members of the military.
The settlement's military provisions address:
• SCRA violations - For foreclosures conducted since Jan. 1 2006, in violation of the Service members Civil Relief Act (SCRA) mortgage servicers must provide victims with a payment equal to their lost equity, plus interest, and an additional $116,785.
• Excess interest - Charging service members interest rates higher than 6 percent from Jan. 1, 2008 to the present, after a service member requested a lower interest rate, is a SCRA violation. Violators must pay service members a payment equal to three times the amount of excess interest charged or $500 (whichever is greater).
• PCS orders - The Department of Defense's (DOD) Homeowners' Assistance Program (HAP) allows service members, who are forced to sell their home at a specified loss due to a Permanent Change in Station (PCS), to be partially compensated for their loss, but those benefits are limited to qualifying service members. The national settlement helps fill the gap by mandating short sale agreements and deficiency waivers to service members forced to sell their home, but who don't qualify for HAP.
• VA loans - The settlement mandates servicers pay $10 million into the Veterans Housing Benefit Program Fund, through which the Department of Veterans Affairs guarantees loans provided on favorable terms to eligible veterans. In addition, many veterans with VA-guaranteed mortgages will be eligible for relief provided through the servicers' $20 billion consumer relief obligations.
• Foreclosure during Hostile Fire/Imminent Danger Pay - The SCRA prohibits mortgage servicers from foreclosing on active duty service members without a court order. The settlement extends that protection to all service members, regardless of when their mortgage was secured, if within nine months of the foreclosure received Hostile Fire/Imminent Danger Pay and were stationed away from their home.
Complaint service
To collect mortgage-servicing complaints, Smith offers two online forms for military personnel and their advocates:
• Service members should file complaints on the "Report My Loan Issue" page.
• Professionals who advocate for service members can use the "Report Client/Constituent Loan Issues" page.
Smith plans to use the information to investigate any trends.
"It is my responsibility to help make this settlement meaningful for borrowers," Smith said.
"That obligation is especially important for the men and women who serve in our military. I hope that this information will be helpful to them, and they will let me know if they do not see improvements," Smith said.
Other related articles:
Foreclosures: The unnatural disaster
Homeownership elusive more than 10 years after foreclosure
'Shadow inventory,' national election, weather keeping consumers from low interest rates
Latest Wells Fargo suit fodder for consumer distrust, disdain for mortgage lenders
Lenders' compliance due on hundreds of National Mortgage Settlement servicing standards
Mortgage strike devised to leverage mortgage relief from lenders for underwater homeowners
National Mortgage Settlement banks dole out $10.6 billion to needy homeowners
Federal regulators order mortgage servicers not to violate military servicemembers' homeowner rights
Military families' housing deeper under water than civilians'
Fannie Mae & Jumbo Mortgage Rates
Just One Click! = Current Rate Chart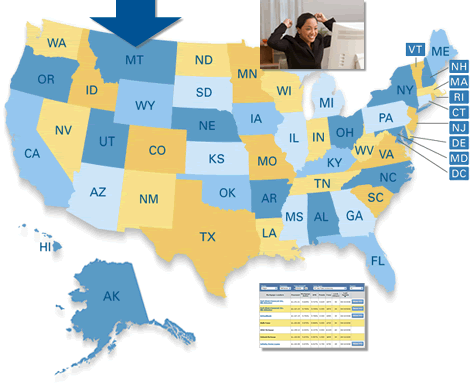 ---