Consumers prefer candid, transparent mortgage originations
by Broderick Perkins

(11/20/2012) - Reducing anxieties and fear goes a long way toward obtaining customer satisfaction during the mortgage origination process.
To that end, the best mortgage lenders excel at communicating and they don't keep their customers in the dark, according to thousands of mortgage consumers.
When J.D. Power and Associates tallied the responses from 3,500 mortgage consumers who originated a home loan from July 31 to Aug. 27 this year, the top picks went to mortgage lenders who stayed in touch with consumers after they completed their application and didn't wait for consumers to call, but proactively kept consumers up to date on the status of their application.
"Given the recent challenges across financial services, the highest-performing lenders in the 2012 study have reduced customer uncertainty and apprehension with greater transparency and communication regarding what to expect in the origination process," said Craig Martin, director of the mortgage practice at J.D. Power and Associates.
The study, J.D. Power's "U.S. Primary Mortgage Origination Satisfaction Study" measured customer satisfaction in four key areas of the mortgage origination experience: application/approval process; the loan representative; closing and contact.
For the third year in a row, Quicken Loans beat out many of the nation's largest mortgage lenders and came out on top with an overall satisfaction rating of 817, out of a possible 1,000.
Quicken was the only lender the J.D. Power survey considered "among the best."
Following Quicken, mortgage lenders that consumers considered "better than most," were Branch Banking & Trust Co. (a J.D. Power score of 791 and the No. 10 mortgage lender by market share), U.S Bank (784 - No. 6 mortgage lender) and Chase (776 - No. 3 mortgage lender).
The industry average score was 761.
The rest of the pack were, SunTrust Mortgage (No. 8 mortgage lender by market share), Wells Fargo (No. 1 mortgage lender), Flagstar Bank, PNC Mortgage, Provident Funding (No. 9 mortgage lender), Fifth Third Mortgage, CitiMortgage/Citibank (No. 5 mortgage lender), GMAC Mortgage, PHH Mortgage (No. 7 mortgage lender) and, on the bottom, Bank of America (No. 2 mortgage lender by market share).
The full list of ratings is below.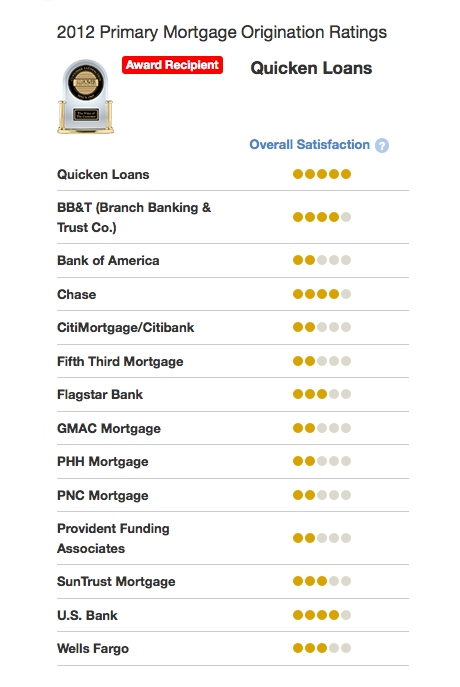 "This increase in satisfaction is particularly impressive given the increasingly expanded origination timelines during the past year," said Martin.
Origination timelines have increased due to tighter underwriting standards and regulatory overhaul of the mortgage lending industry.
Low interest rates no silver bullet
While interest rates can be a driving force for attracting customers in today's market, once consumers are in the door, they also find value at the desks of loan officers who, well, hold their hand through the process.
"On the surface, most would assume that the interest rate is the primary factor in the decision-making process. However, lenders that enjoy high levels of repeat business are those that typically deliver high levels of satisfaction and don't necessarily offer the lowest rates," said Martin.
"From the perspective of customers, peace of mind in the loan origination process is critically important, and selecting a lender with a slightly higher rate, but that provides superior customer service, may be worth the few extra dollars in their monthly payment," Martin added.
Even high satisfaction scores and interest rates together aren't enough to single out a mortgage lender that fits. J.D. Power offers the following tips consumers should consider when both selecting and working with a mortgage lender:
• Do your homework. Research and understand the myriad types of loans available. Consider more than the interest rate while shopping.
• Be patient. It's a brave new home loan world. The mortgage origination process takes longer than it did a few years ago. Longer than you might think or wish.
• Use technology. Some lenders offer special website access or mobile apps that enable you to keep up to date on the status of your application or manage your account. If you are on the go, that's important. Ask your loan representative whether these options are available for your account.
• Know the ropes. Make sure you fully understand the relationship you'll have with the lender you select. The mortgage origination company who takes your application may not be the same company that ultimately services your loan.
• Choose your connection. Let your loan representative know how to contact you - email, landline or smart phone - and then remain available and remain in the area until your loan closes. Take that vacation after you've moved in.
Other related articles:
Smaller mortgages, fewer foreclosures sustain housing recovery
Foreclosures: The unnatural disaster
Union Now: The Changing Picture of Credit Unions and the Banking Industry
Understanding Mortgages: Working with a Mortgage Broker
Lenders' compliance due on hundreds of National Mortgage Settlement servicing standards
Mortgage strike devised to leverage mortgage relief from lenders for underwater homeowners
Fannie Mae & Jumbo Mortgage Rates
Just One Click! = Current Rate Chart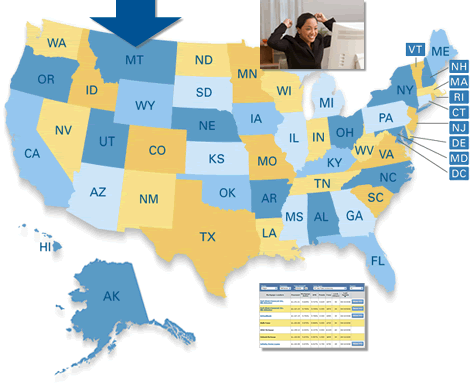 ---