Foreclosures down, but not out in many cities
by Broderick Perkins

(1/9/2013) - Foreclosures nationwide are down 28 percent from a year ago and they've been falling every month for more than two years.
Fewer distressed homes competing with traditional listings contribute to higher prices in some areas and helps prices hold the line in others.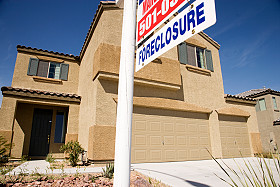 Unfortunately the worst could be yet to come in metropolitan areas where foreclosures continue to rise rather than fall, according to recent reports from RealtyTrac.
RealtyTrac reports nationwide foreclosure starts were down 13 percent in November from the previous and at the level since December 2006 - a 71-month low.
Repossessions (REOs) increased 11 percent from the previous month and were up 5 percent from November 2011, a nine-month high and the first year-over-year increase in REOs since October 2010.
"The drop in overall foreclosure activity in November was caused largely by a 71-month low in foreclosure starts for the month, more evidence that we are past the worst of the foreclosure problem brought about by the housing bubble bursting six years ago," said Daren Blomquist, vice president at RealtyTrac.
Big year-over-year foreclosure drops in California, Georgia, Michigan, Texas and Arizona led the way to the national decrease, but foreclosure activity was up for the year in 23 states and the District of Columbia.
Florida, New Jersey, New York, Ohio and South Carolina were among nine states that posted 12-month highs in foreclosures during November, RealtyTrac reported.
"Foreclosures are continuing to hobble the U.S. housing market as lenders finally seize properties that started the process a year or two ago — and much longer in some cases. We're likely not completely out of the woods," said Blomquist.
Blomquist said lenders are still adjusting to new foreclosure regulations in the National Mortgage Settlement, as well as grappling with various state laws and court settlements.
Higher foreclosure rates coming in 2013
On a more local level, RealtyTrac reported 20 cites where foreclosure activity is expected to actually increase in 2013.
According to RealtyTrac, Palm Bay, FL is forecast to see foreclosures skyrocket by more than 110 percent this year as other Florida cities also succumb to foreclosure increases.
Foreclosure rates are expected to jump by about 70 percent in Lakeland; 40 percent in Tampa, Panama City, Pensacola and Jacksonville; 30 percent in Orlando and 20 percent in Ocala.
Other metros where RealtyTrac expects to see an increase in foreclosures, include Raleigh, NC, more than 60 percent; Omaha, NB and Rockford, IL about 40 percent; Pittsburgh, PA about 35 percent; Charlotte, NC about 30 percent and in New Haven and Bridgeport, CT, about 25 percent.
All the areas suffered at least 2,000 foreclosure starts and REOs combined in 2012, through November.
While the surge of foreclosures in those areas will make bargain-hunting buyers and investors happy, homeowners and sellers are often still waiting to see their market bottom out and home values begin to appreciate.
Also, the longer it takes for those who lose their home to foreclosure to pass through the credit-impaired pipeline, clogged with foreclosed homeowners, the longer it will take to re-enter the housing market and help their local housing recovery.
Not surprisingly, Florida posted the nation's highest foreclosure rate by state. One in every 304 housing units suffered a foreclosure filing in November. Nevada, Illinois, California and South Carolina followed Florida.
Seven the top 10 highest metro area foreclosure rates were also in Florida, with the other three in California.
RealtyTrac also reported foreclosure stats dropped in 28 states, including Oregon, by 84 percent; Pennsylvania, down 67 percent; California, down 63 percent; Arizona, down 59 percent and Georgia, 51 percent.
Other related articles:
The Best Way to Avoid Foreclosure......turns out it's finding a job!
Fiscal cliff clouds otherwise rosy outlook for mortgage delinquencies, foreclosures
Housing recovery not robust enough to reduce mortgage delinquencies
First-time home buyers not always enjoying full benefits of housing recovery
'Hell No!" say one in four renters, they won't go for home ownership
Smaller mortgages, fewer foreclosures sustain housing recovery
Foreclosures: The unnatural disaster
Homeownership elusive more than 10 years after foreclosure
Fannie Mae & Jumbo Mortgage Rates
Just One Click! = Current Rate Chart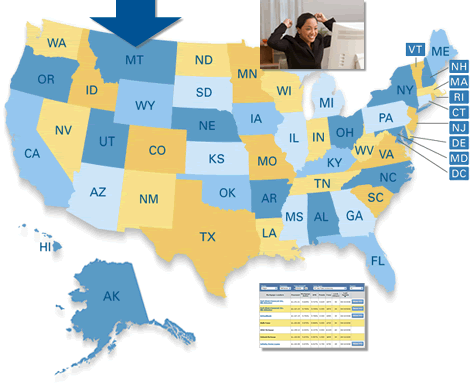 ---