20.6 million homeowners are mortgage free - for better or for worse
by Broderick Perkins

UPDATE: Per Credit.com "Nationally, there were over 73 million owner-occupied housing units in the U.S. in 2015. Of these, around 46 million had home debt such as mortgages and equity loans, and nearly 27 million were owned free and clear."
(1/14/2013) - Nearly 21 million homeowners - 29 percent of the nation's 70 million homeowners - are mortgage free, according to Zillow research.
For those homeowners, an amount equal to the old mortgage payment is available each month for investments, savings, discretionary spending, paying off other bills or just a lower cost of living.
It's a windfall.
"If the question "Should you pay off your mortgage?" is reframed: 'Is it good to save money. Is it good to increase your savings?' The answer is always 'yes.' It is good to save money and paying off your mortgage is a form of saving money," said Tim Dwyer, CEO of Entitle Direct, a discount title insurance company in New York City.
However, becoming mortgage-free isn't always the wisest financial move and, without that proverbial silver spoon, it isn't easy.
Zillow, in it's third quarter, 2012 report, said mortgage-free homeowners are typically found in areas where home prices are low, for an obvious reason. Smaller mortgages are easier to pay off.
Mortgage-free homeowners are also typically older homeowners — those 65 to 74 years old. Again, it's obvious - they've had more time to pay off their mortgage. More than 20 percent of older Americans are mortgage-free.
However, a larger 34.5 percent share of 20- to 24-year-olds is also mortgage free. Zillow doesn't really explain why but one good bet is a financial gift from parents who don't have a mortgage.
Also, genius-level achievements (an, ahem, genetic gift from parents) that landed them work in a high-tech other high-paying job, just when the company was about the launch a successful initial public offering of stock.
By location, there are more mortgage-free homeowners in larger metropolitan areas where there are generally more opportunities to find high paying jobs.
Top mortgage-free areas include, New York City (if you can make it there...), Los Angeles (everyone is a star), Chicago (forget the Bears, it's bullish on real estate), Dallas-Fort Worth (it's just BIG), Philadelphia (cheap cheesesteak meals), Washington, D.C. (lucrative government careers with life-long benefits), Miami (again with the older crowd), Atlanta (the financial capital of the South), and so on.
Typically, Zillow more often examines data to decipher how much homeowners owe on their mortgage in order to identify underwater and delinquent groups of homeowners. Mortgage-free homeownership also offers clues about housing market conditions and trends.
"Homeowners unencumbered by a mortgage may be more flexible than indebted homeowners, and therefore more apt or willing to list their homes for sale or enter the market for a new property. By determining where these homeowners are located, we can also gain insight into potential inventory and demand in those areas as well," said Zillow Chief Economist Dr. Stan Humphries.
Downside of mortgage-free homeownership
In the end, it's a personal financial decision that could require the help of a financial planner, but homeownership with a zero mortgage balance isn't always the best option.
• A mortgage with a 4 percent interest rate comes with a net borrowing cost as low as 3 percent, if not lower, after deducting the savings associated with the home-mortgage interest deduction, the granddaddy of all housing tax shelters, and other tax write offs.
For those with low mortgage balances, refinancing is a way to obtain what amounts to cheap, tax deductible credit.
• If you pay off your mortgage at the expense of keeping higher cost debt, say, credit card debt, your costs to borrow will be higher.
Using your equity to pay off higher cost debt is a better deal. Pay off your mortgage after your pay off higher-cost debt.
• Likewise, don't pay off your mortgage if it means emptying an emergency fund or highly liquid account you might need in a pinch. Using a liquid savings account in an emergency is faster and even cheaper than tapping equity.
• Paying off your mortgage also might not be a good idea if you plan to move down. If you can move down with sufficient equity intact from your existing home, you can move into your new home mortgage free.
Paying off the mortgage
Certainly, the security of mortgage-free homeownership can give you financial peace of mind, but getting there isn't always easy. You can however, make the road to homeownership without a mortgage less painful.
• Refinance to a shorter term. A 10-, 15-, even 20-year loan can knock years off your payment term and save tens, even hundreds of thousands of dollars in interest.
"In today's still low interest rate environment, it's advisable to refinance one mortgage into another that has a shorter term," said Dwyer of Entitle.
Just beware. A shorter term means higher monthly payments. Be sure you can foot the bill every month, even for a shorter term.
• Pay more than is due each month. If your monthly mortgage payment covers the interest and the principal, any amount above your mortgage payment goes directly to the principal, thereby reducing the balance of your mortgage faster.
That can be as simple as rounding up your payments to the next full $50 or $100. Just make sure the lender applies the extra payment amount to the principal and not interest or the next month's payment.
"If you have a 30-year mortgage, 25 years remain, the mortgage payment is $1,573, add just $27 a month and round it up to $1,600. You will save over $14,000 during the remaining life of the loan and shorten the term by more than a year," said Dwyer.
• Make an extra payment every year. This is another approach to paying down the principal. A half mortgage payment every other week for 26 weeks (in a 52 week year) will get you 13 monthly payments each year instead of 12.
You can chop about six years off a 30-year term with this method, but you may have to set it up with your lender for free or at some additional cost. Also make sure amounts above the regular monthly payment go toward the principal.
Don't buy into outside services that offer to set up a plan. Do it yourself.
If you start a plan on your own, a month or so before the first deposit, to prime the pump with sufficient cash, you can fully automate the process. Have your employer deposit your paycheck into an account (something that's interest bearing is ideal) from which you can trigger automatic mortgage payments every other week.
Again, just be sure your mortgage lender also knows the plan.
Ba-da-boom. Ba-da-bing.
Other related articles:
Foreclosures down, but not out in many cities
Low interest rates contributing to tight lending standards
Many consumers would sign up for Wal-Mart, PayPal mortgages
HAFA enhancements due next year
Still higher FHA mortgage costs in the pipeline
First-time home buyers not always enjoying full benefits of housing recovery
Mortgage shoppers still leaving money on the table
'Hell No!" say one in four renters, they won't go for home ownership
Fannie Mae & Jumbo Mortgage Rates
Just One Click! = Current Rate Chart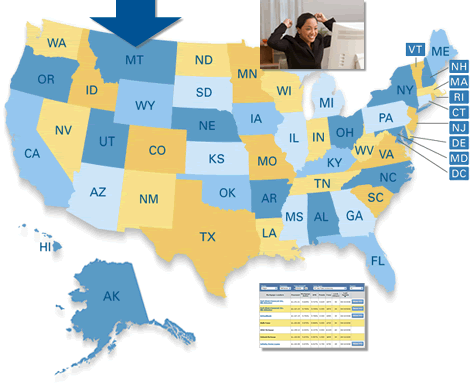 ---