Daily Rate Summary

Wednesday, May 16th, 2018
Mortgage Rates and Treasury Yields Rise Strongly.
On Tuesday, Treasury bond yields and Mortgage interest rates rose strongly as the U.S. 10-Year Note fails to repel sellers again at the 3.00% yield level and the bond selling has ended for the time being even as the Market-Implied probability for a June Rate Hike increases for the Federal Funds Rate. Though Stocks have fallen some, prices are still lofty just a couple of percent off all-time-highs in indexes. Nervous investors mull economic signals and the impact of the Tax cut on future growth potential & the aging economic recovery. The 10 Yr. Treasury Note stood at a yield of 3.076% and the 30 Yr. U.S. Treasury Bond yielding 3.203%. 30 Year Mortgages according to Freddie Mac were around 4.55% for conforming and 4.71% for Jumbo products.

According to Zerohedge.com, "As markets take a slow transition into summer with earnings season now almost over, the calendar takes a bit of a break this week with US retail sales the only real highlight on the data docket.
The second revision to Q1 GDP in the Euro area, retail sales and CPI data in Canada, and final April CPI reports are due in Europe while China activity indicators are also expected. In Japan, GDP is likely to slow down to +0.0% qoq saar from +1.6% in Oct-Dec '17 due to weather related weakness in private consumption, reversal of earlier inventory build-up, and slowdown in export momentum.
The main action will be away from data with a busy Fed-speak calendar due, especially following the latest disappointing CPI print. Overnight, Cleveland Fed President Loretta Mester spoke, and was hawkish as usual, saying she would look through 'transitory' factors behind recent inflationary softness,"

Key Economic Releases for the Week of May 14th – May 18th.
Source: BEA, BLS, Census Bureau, Federal Reserve, ISM, U of Michigan, IHS Markit, Bloomberg and Barclays Research.
(Chart courtesy of Zerohedge.com).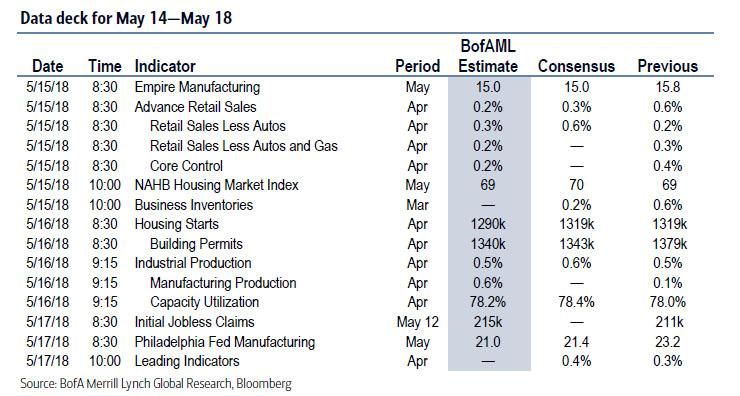 According to zerohedge.com, "On the heels of the 10Y treasury yield breaking out of its recent range to its highest since July 2011, this morning's mortgage applications data shows directly how Bill Gross may be right that the economy may not be able to handle The Fed's ongoing actions. The 10-year yield functions as benchmark for the mortgage market, and when it moves, mortgage rates move. And today's surge of the 10-year yield meaningfully past 3% had consequences in the mortgage markets, as Mortgage News Daily explained:
"Mortgage rates spiked in a big way today, bringing some lenders to the highest levels in nearly 7 years (you'd need to go back to July 2011 to see worse). That heavy-hitting headline is largely due to the fact that rates were already fairly close to 7-year highs, although today did cover quite a bit more distance than other recent "bad days."
The "most prevalent rates" for 30-year fixed rate mortgages today were between 4.75% and 4.875%, according to Mortgage News Daily."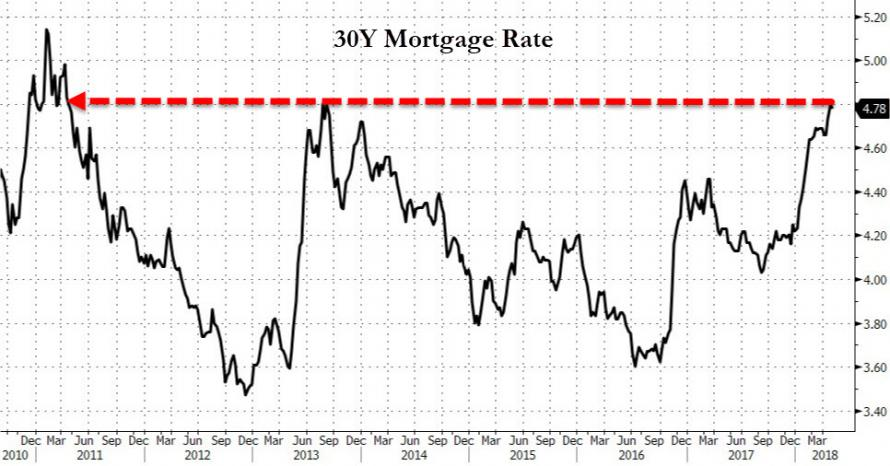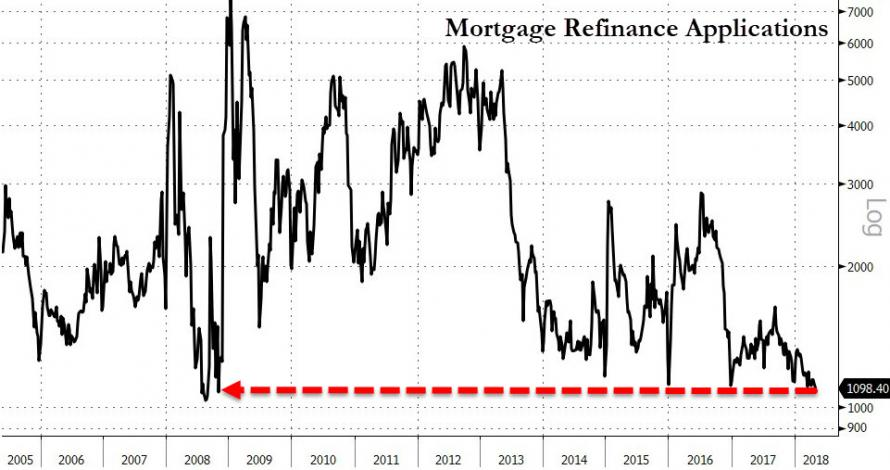 U.S. 30 Year Note Yield above 3.20% again.
(Chart courtesy of Zerohedge.com).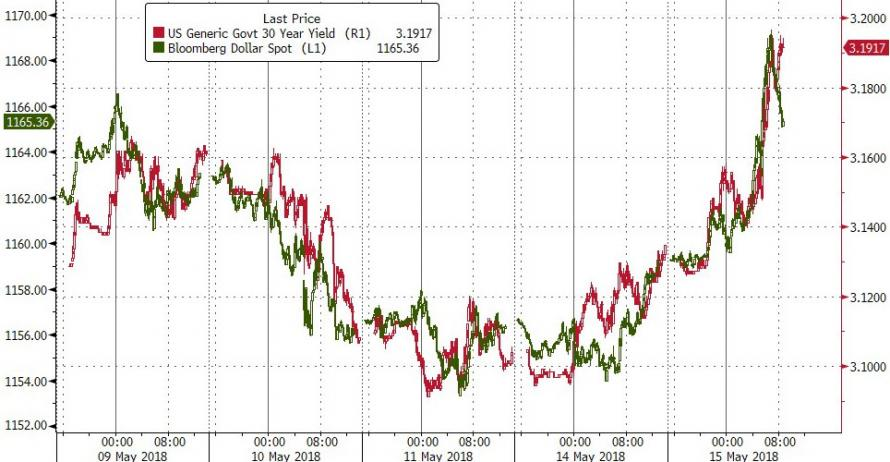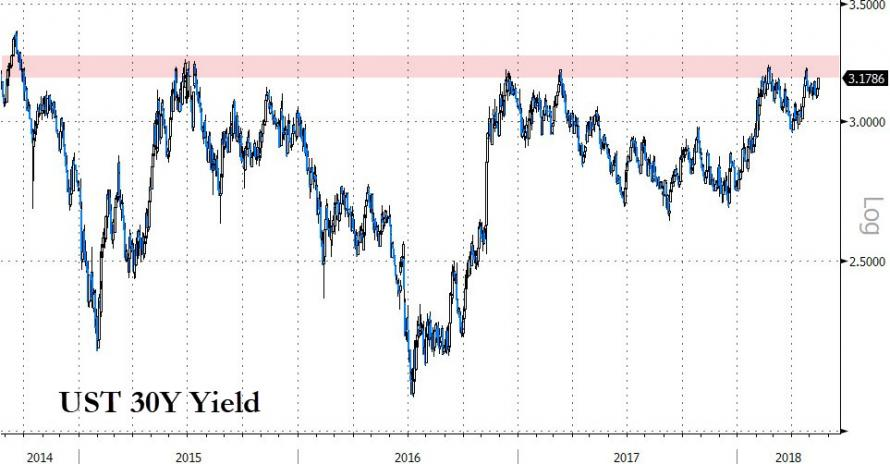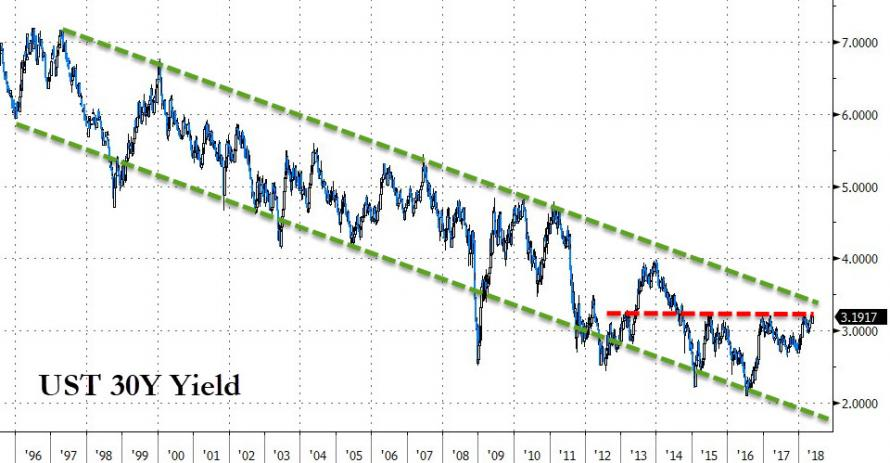 U.S. 10 Year Note Yield back above 3.0927% again.
(Chart courtesy of Zerohedge.com).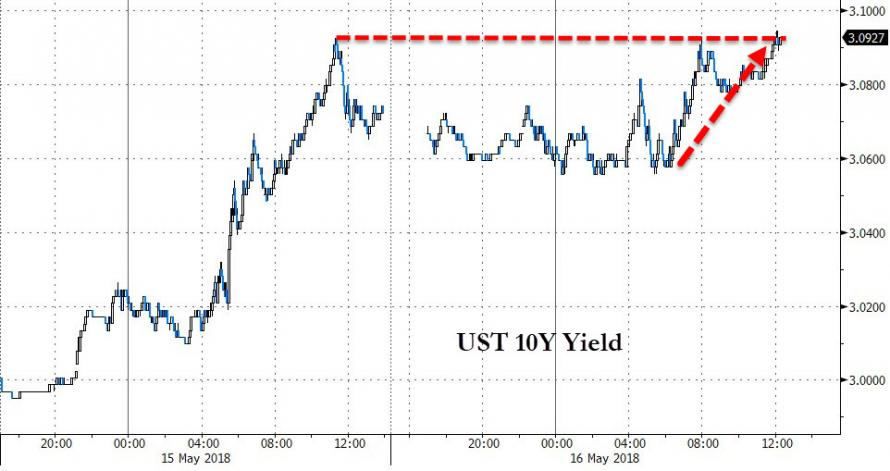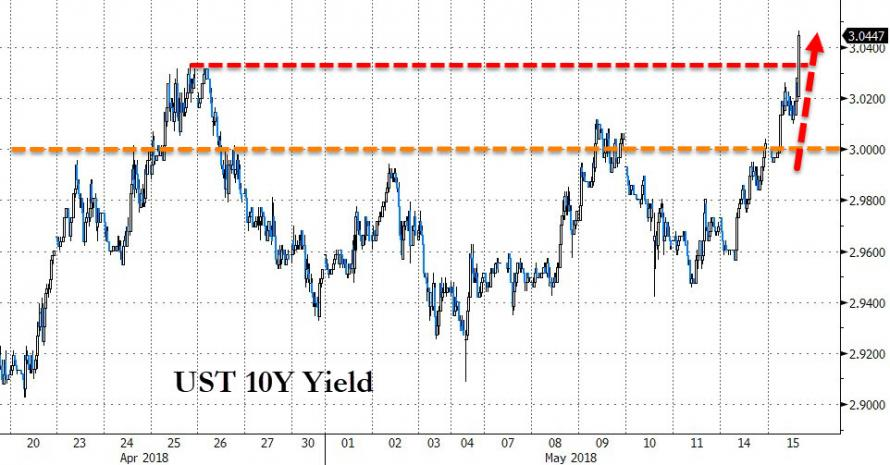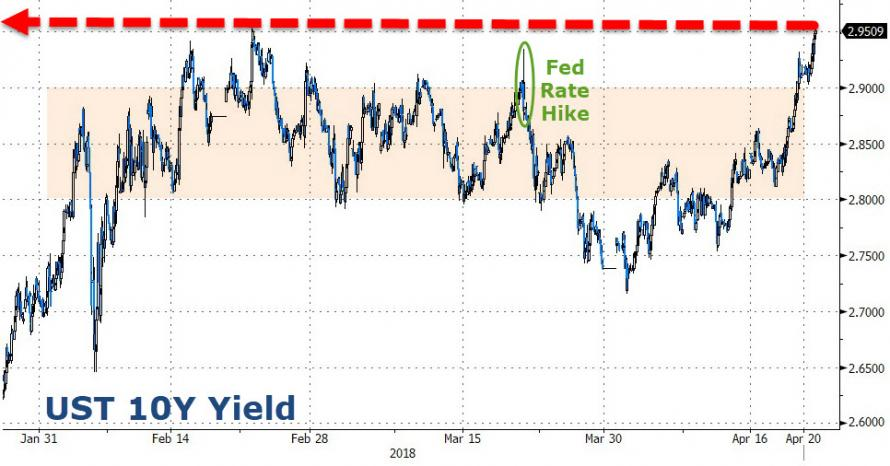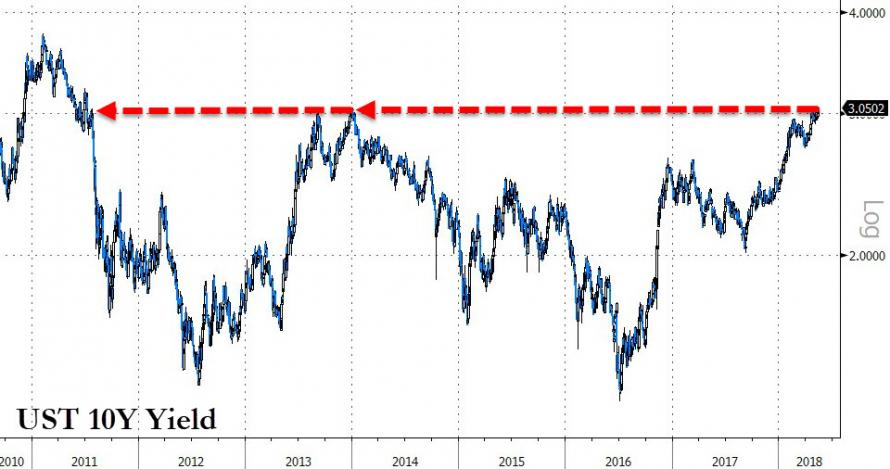 The 10 Year U.S. Treasury Note has tested the lows and is moving back to the upper trading range in bond yields. We await whether that gap at 2.05% will get filled in coming months. If so, we will get another run at historically low rates before the final blow-off in Credit Markets sends Mortgage Interest rates up for good.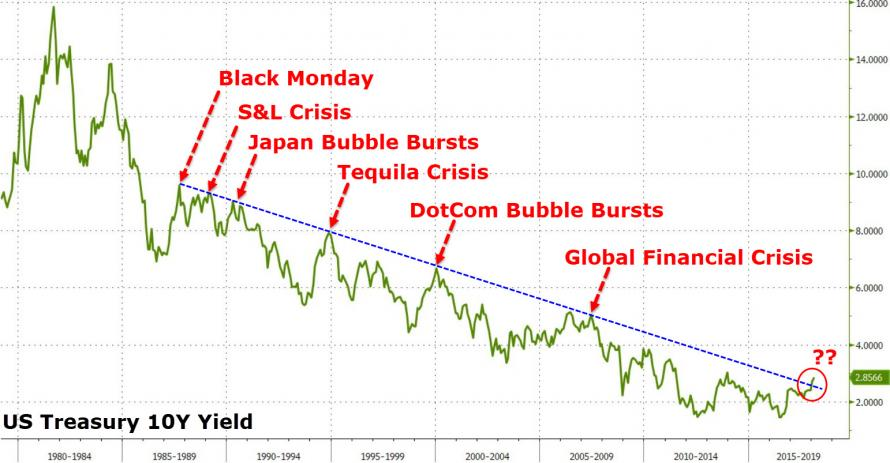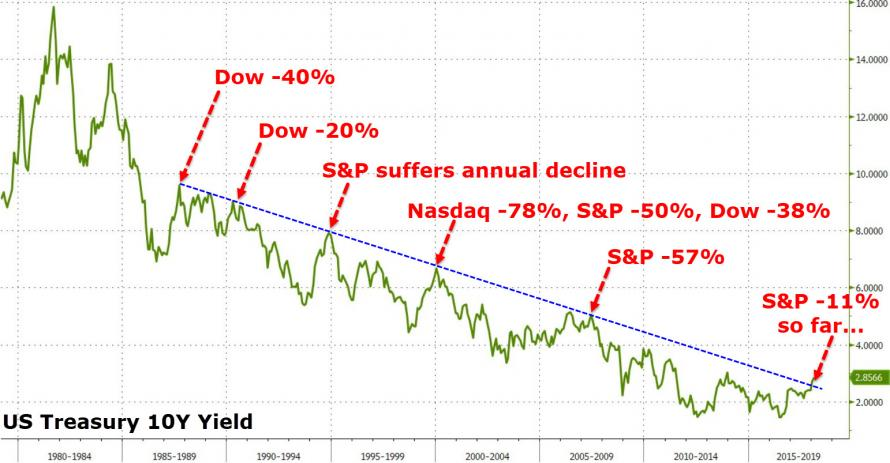 The above Chart does suggest that a constructive set-up is forming in the 10 Year Treasury Note with the potential to push the yield to around 2.00% over the next year. It is crucial that Mortgage Rates stay at or below 4.00% or demand for mortgage loans will dry up. The window of opportunity for borrowers seeking mortgage refinancing & home purchases is still open for now.

Market-Implied Probability of a June Rate Hike.
(Chart courtesy of Zerohedge.com).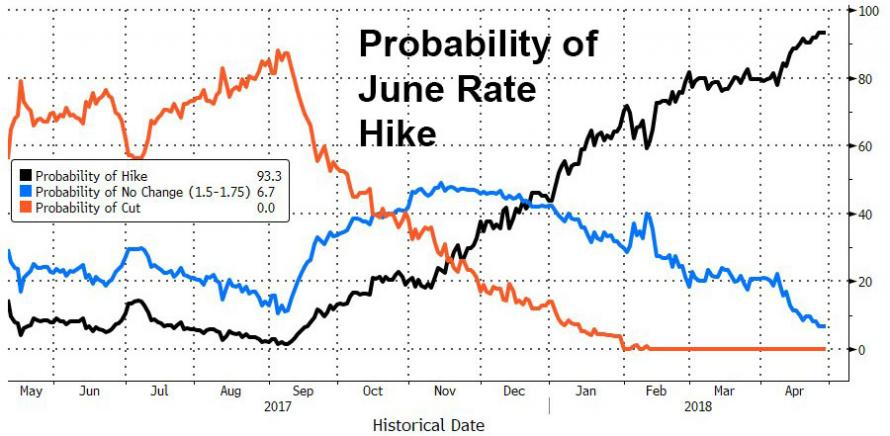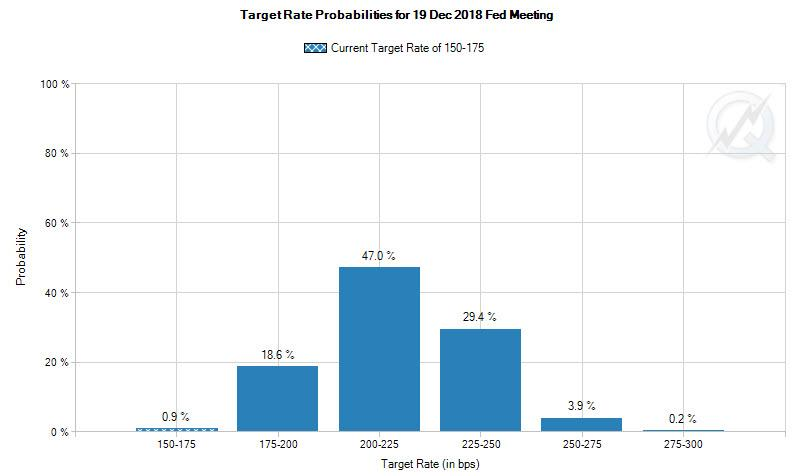 As Deutsche Bank (DB's) Craig Nicol adds, "In terms of the Fed on Wednesday, the consensus is for no change in policy which is a view also shared by the market with futures pricing implying odds of just 5% for a hike. That said market pricing for 4 rate hikes this year (i.e. a further 3) have nudged up above 40% from a low of just 18% at the start of this month so it'll be interesting to see how or if that changes post next week's meeting."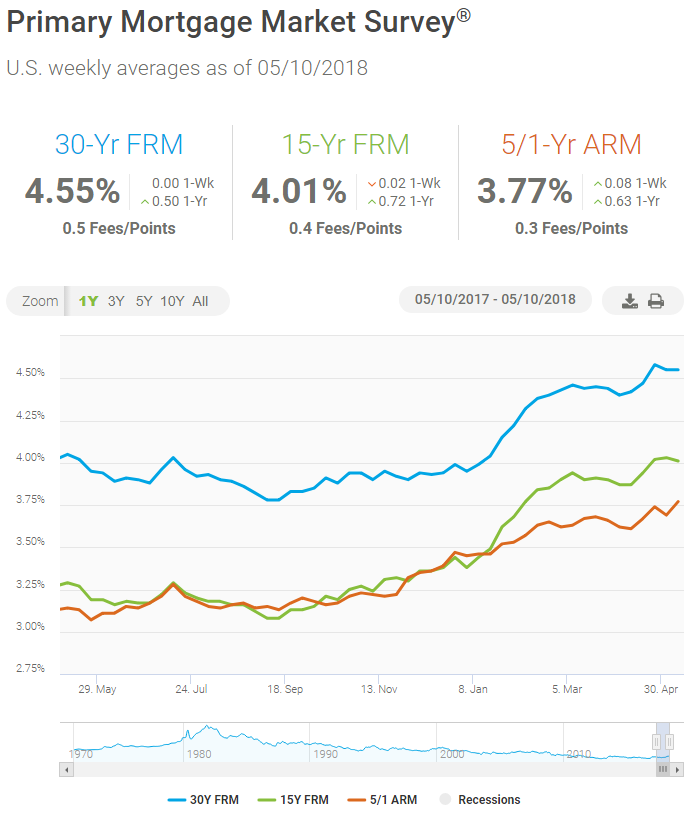 As can be seen from Freddie Mac's Mortgage Market Survey, last week, 30 Yr. Fixed Mortgage rates for conforming loans hit 4.55% having moved by 0 basis points (bps) from the previous week.
Treasury Prices Fall and Yields Rise for U.S. 10 Yr. and 30 Yr. Treasuries.
At the Chicago Board of Trade (CBOT): the US 10 Year Treasury Note futures Contract for June settlement closed at a price of 118'19.5 / 32nds; the 10 Year Note was down 20.5 basis points (bps) on the day, yielding 3.076%. The US 30 Year Treasury Bond futures Contract for June settlement closed at a price of 141'02 / 32nds; the 30 Year Bond was down 54 basis points (bps) on the day, yielding 3.203%. Mortgage Rates are at their 2018 highs and are unchanged from the previous Freddie Mac Survey last week.
Thanks to ZeroHedge.com, Mortgage News Daily, Bureau of Labor Statistics (BLS), Aspen Graphics / Bloomberg, BEA, BLS, Census Bureau, Federal Reserve, ISM, U of Michigan, IHS Markit, Bloomberg and Barclays Research, B of A Merrill Lynch Global Research, Goldman Sachs, Deutsche Bank (DB), Bloomberg, and FreddieMac.com for Charts and Graphics.
---
Disclaimer: The Information & content in this message is solely the opinion of the author and believed to be from reliable sources. Charts and tables contained herein were taken from other sources and a best effort was attempted by the author to give attribution where possible. None of this material should be construed as fact, and is not intended for use by reader as investment advice or relied upon for making financial decisions.