Daily Rate Summary

Wednesday, June 13th 2018
Mortgage Rates and Treasury Yields Rise Slightly.
On Tuesday, Treasury bond yields and Mortgage interest rates rose slightly as the CB coordinated global growth recovery meme roils bond investors to asset allocate away from fixed income securities. The U.S. 10-Year Note is moving back toward the psychological 3.00% yield level. Though Stocks have fallen some, prices are still lofty just a couple of percent off all-time-highs in indexes. Nervous investors mull economic signals and the impact of the Tax cut on future growth potential & the aging economic recovery. The 10 Yr. Treasury Note stood at a yield of 2.963% and the 30 Yr. U.S. Treasury Bond yielding 3.095%. 30 Year Mortgages according to Freddie Mac were around 4.54% for conforming and 4.62% for Jumbo products.





Key Economic Releases for the Week of June 11th – June 15th.
Source: BEA, BLS, Census Bureau, Federal Reserve, ISM, U of M, IHS Markit, Bloomberg and Barclays Research.
(Chart courtesy of Zerohedge.com).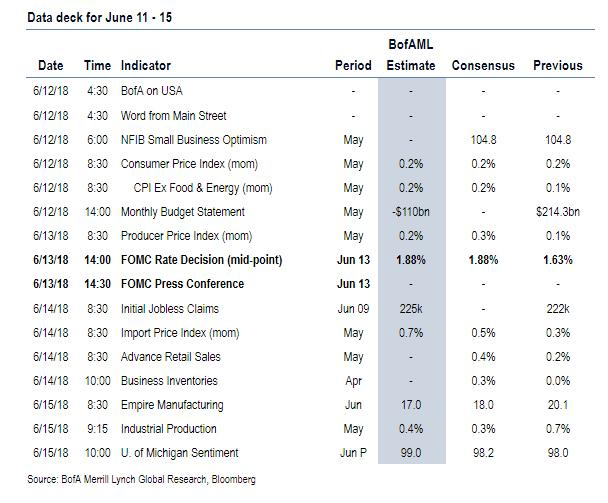 According to Zerohedge.com, "Away from central banks, the watershed geopolitical moment for politics next week is the planned meeting between President Trump and North Korean leader Kim Jong Un on Tuesday in Singapore. It's almost impossible to predict what may or may not happen in terms of a deal being struck, and balancing sanctions relief versus denuclearization, but it's almost certain to be a highly sensitive event for markets either way. Above we lay out Goldman preview of key US events, together with consensus forecasts: according to Goldman Sachs, the key economic releases this week are the CPI report on Tuesday and retail sales on Thursday. In addition, the June FOMC statement will be released on Wednesday at 2:00 PM EDT, followed by Chairman Powell's press conference at 2:30 PM.
And just in case there is confusion about the importance of this week's events, here is Deutsche Bank agreeing with Bank of America, and writing that there's a plethora of potentially pivotal and market sensitive events worth keeping an eye on next week.
The ECB, Fed and BoJ will all hold monetary policy meetings, while the unprecedented summit between President Trump and North Korean Leader Kim Jong Un is also on the cards. Data releases include US CPI and retail sales as well as final CPI reports throughout Europe and China, while Brexit developments shouldn't be too far from the spotlight. The ECB might well be the most potentially interesting of the central bank meetings next week on Thursday after the coordinated signals sent by ECB speakers this week that the meeting is a live one for debating the end of QE."

U.S. 30 Year Note Yield is at 3.08% again.
(Chart courtesy of Zerohedge.com).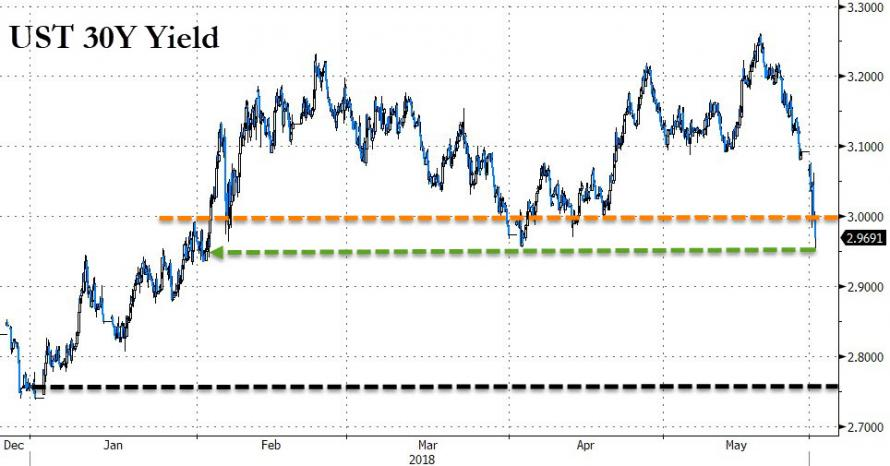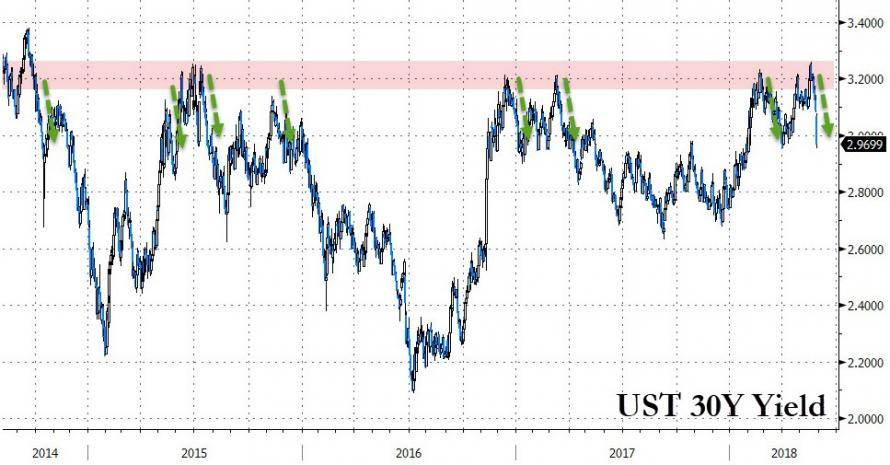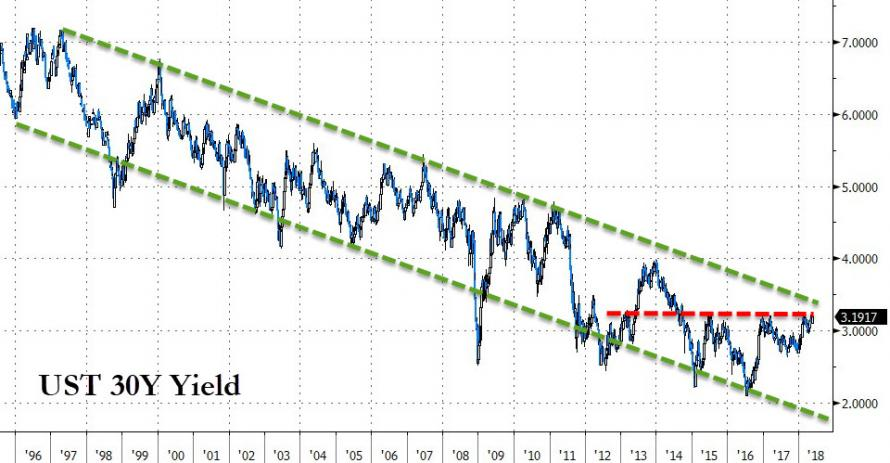 U.S. 10 Year Note Yield back at about 2.96% again.
(Chart courtesy of Zerohedge.com).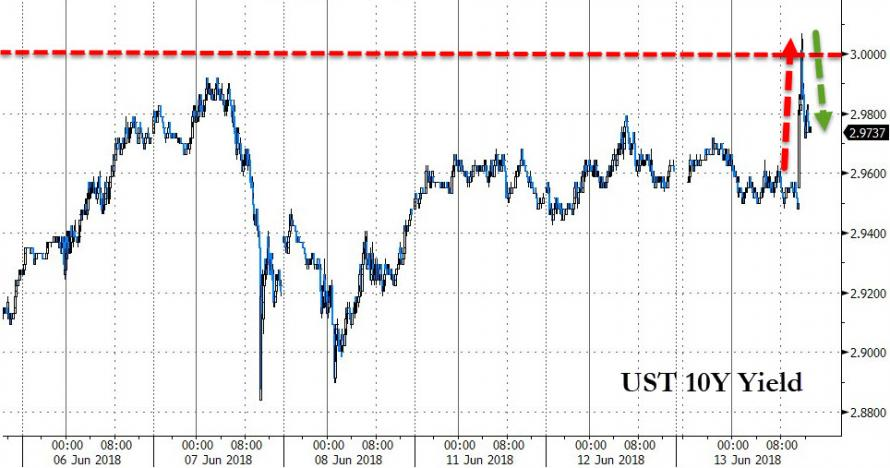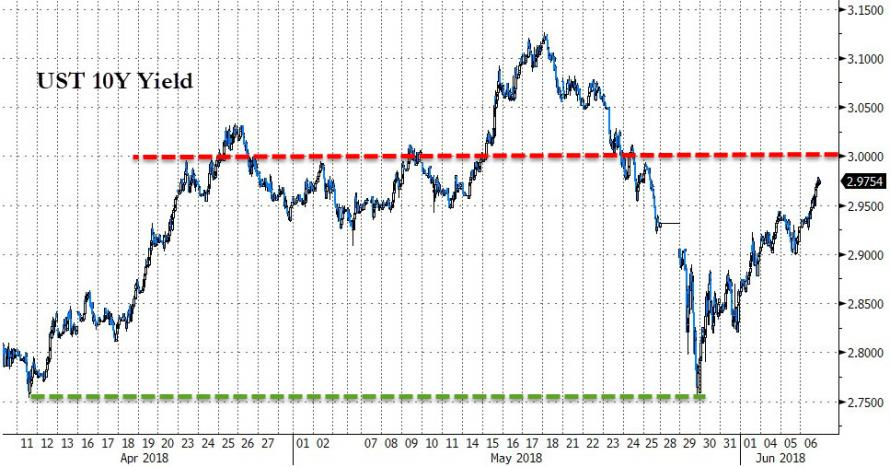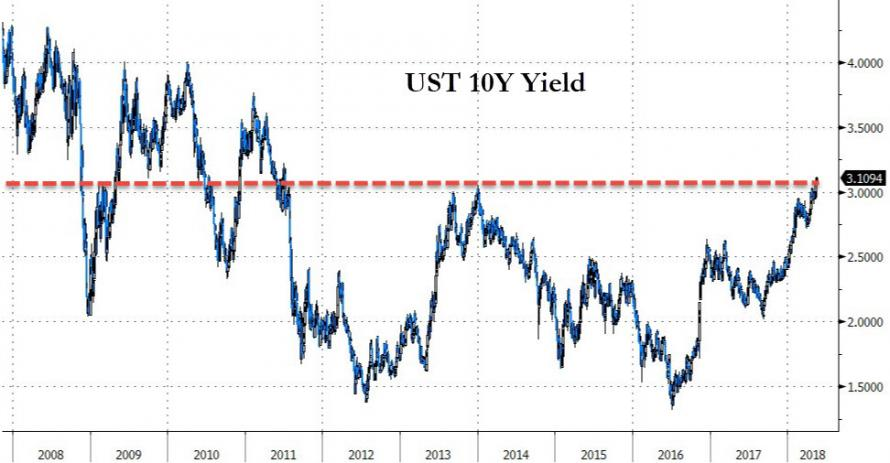 The 10 Year U.S. Treasury Note has tested the lows and is moving back to the upper trading range in bond yields. We await whether that gap at 2.05% will get filled in coming months. If so, we will get another run at historically low rates before the final blow-off in Credit Markets sends Mortgage Interest rates up for good.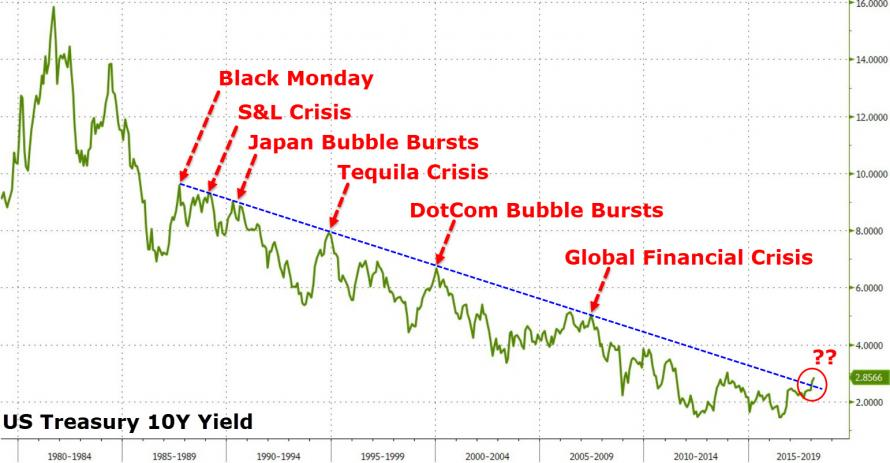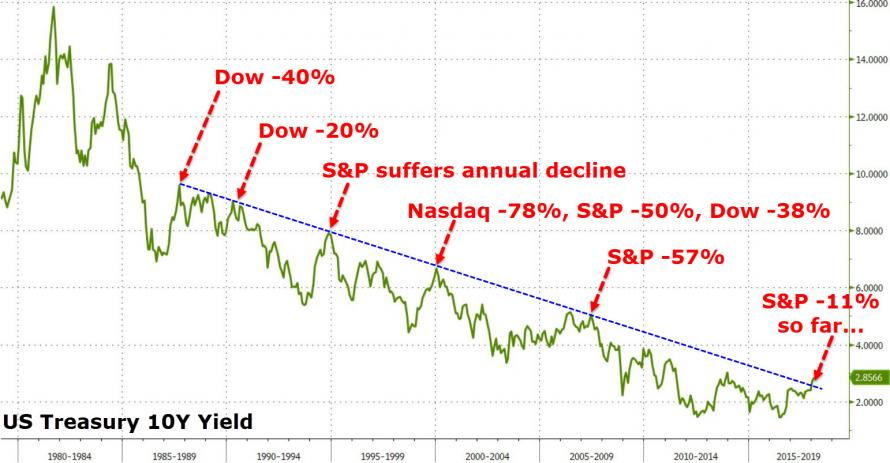 The above Chart does suggest that a constructive set-up is forming in the 10 Year Treasury Note with the potential to push the yield to around 2.00% over the next year. It is crucial that Mortgage Rates stay at or below 4.00% or demand for mortgage loans will dry up. The window of opportunity for borrowers seeking mortgage refinancing & home purchases is still open for now.

Market-Implied Probability of a June Rate Hike rises to 97.0%.
(Chart courtesy of Zerohedge.com).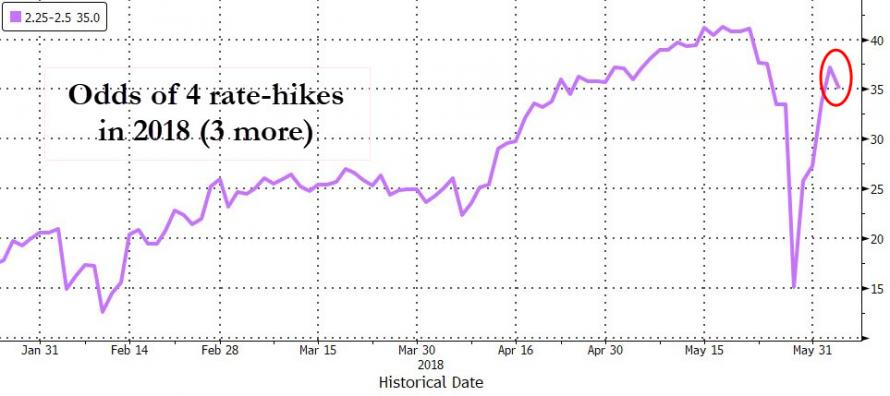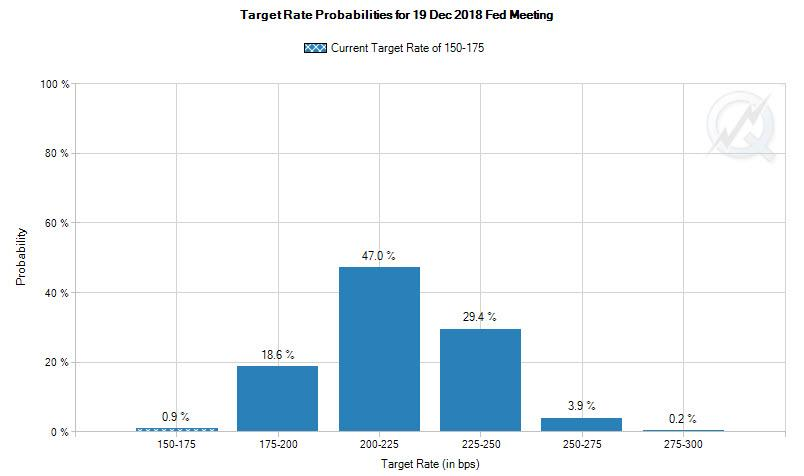 As Deutsche Bank (DB's) Craig Nicol adds, "In terms of the Fed on Wednesday, the consensus is for no change in policy which is a view also shared by the market with futures pricing implying odds of just 5% for a hike. That said market pricing for 4 rate hikes this year (i.e. a further 3) have nudged up above 40% from a low of just 18% at the start of this month so it'll be interesting to see how or if that changes post next week's meeting."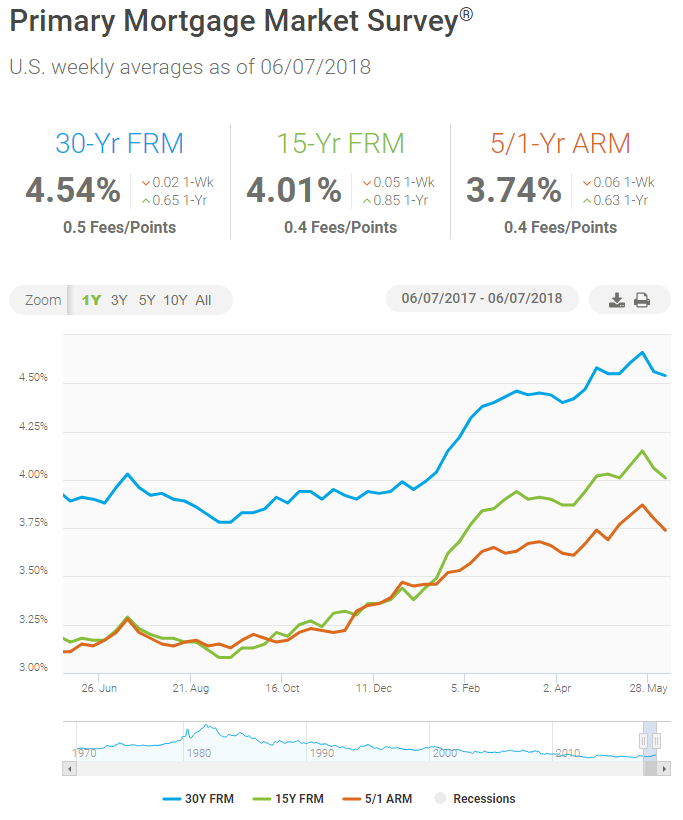 As can be seen from Freddie Mac's Mortgage Market Survey, last week, 30 Yr. Fixed Mortgage rates for conforming loans hit 4.54% having decreasing by 2 basis points (bps) from the previous week and are near the highs for 2018.
Treasury Prices Fall and Yields Rise for U.S. 10 Yr. and 30 Yr. Treasuries.
At the Chicago Board of Trade (CBOT): the US 10 Year Treasury Note futures Contract for September settlement closed at a price of 119'13 / 32nds; the 10 Year Note was down 1 tick on the day, yielding 2.963%. The US 30 Year Treasury Bond futures Contract for September settlement closed at a price of 142'29 / 32nds; the 30 Year Bond was up 3 ticks on the day, yielding 3.095%. Mortgage Rates are at their 2018 highs but are down 2 basis points (bps) from the previous Freddie Mac Survey last week.
Thanks to ZeroHedge.com, Google.com, FRED, National Association of Realtors (NAR), Citi Research, Bureau of Labor Statistics (BLS), Aspen Graphics / Bloomberg, BEA, BLS, Census Bureau, Federal Reserve, ISM, U of Michigan, IHS Markit, Bloomberg and Barclays Research, B of A Merrill Lynch Global Research, Goldman Sachs, Deutsche Bank (DB), Bloomberg, and FreddieMac.com for Charts and Graphics.
---
Disclaimer: The Information & content in this message is solely the opinion of the author and believed to be from reliable sources. Charts and tables contained herein were taken from other sources and a best effort was attempted by the author to give attribution where possible. None of this material should be construed as fact, and is not intended for use by reader as investment advice or relied upon for making financial decisions.