Daily Rate Summary

Friday, July 14th, 2017
Mortgage Rates and Treasury Yields Rise Slightly.
On Thursday, Treasury bond yields rose and Mortgage interest rates were steady as Fed Chairman, Janet Yellen finished her semi-annual testimony to Congress. The always mercurial Yellen took an about-face 'Dovish' tone and hinted that inflation is running at 1.7% below the Fed's 2% target and a "Neutral" rate target may be closer than we think. Quick, everyone to the other side of the boat!
It was a case of another Fed jawboned 'perfect stick-save' as both the stock market & bond market rebounded on the news this week. To remind our readers who haven't been watching closely--Credit Markets are interpreting the Fed's words to mean 'rate pause' in this tightening cycle (sooner rather than later), which is music to the captured market's ears (i.e. "…we're not serious about really tightening financial conditions").
Reading between the lines of FedSpeak is the message--after 7 years at +0.25%, the Fed has only been able to raise the Fed Funds Rate 4 times to the present level of +1.25%, and will not complete it's intended 11 rate hikes, like they said it would. The September 10 Yr. U.S. Treasury Note stood at a yield of 2.3444% and the 30 Yr. U.S. Treasury Bond is yielding 2.9172%. 30 Year Mortgages according to Freddie Mac were around 4.03% for conforming and 4.14% for Jumbo products.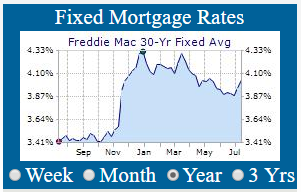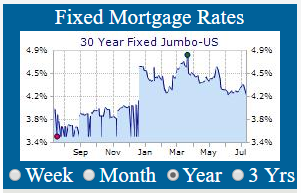 It appears that all the transparency & communication by The Fed to the markets about the Implied Fed Funds Target Rate path (the Dot Plot) is moot and they are back to 'data dependent' policy stance of renewed accommodation, according to Janet Yellen and the Fed.
Well, that was exactly what I suspected all along. Just as the Bank of Japan in August of 2000 attempted to normalize rates. Japan raised rates one-time from 0% to 0.25% causing term interest rates (2yr and 10yrs) to crater. The Bank of Japan then had to reverse course within 7 months and lower the rate back to 0.15% in February 2001.
Reminds me of The Vapors 1980 song lyrics, "Turning Japanese". The Fed is cornered, it can't raise rates by any significant amount to matter; because it will tank the economy & current interest rate at these emergency levels do not provide the Fed any policy room to ease should a recession start later this year. We've got trouble in River City!
Implied Fed Funds Target Rate (Dot Plot) (Chart courtesy of Zerohedge.com).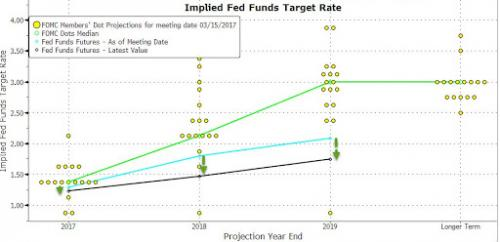 The now all-but-abandoned Federal Reserve Dot Plot suggests that the Fed Funds Rate will be 1.50% by the end of 2017 which indicated only one additional rate hike this year and two in 2018.
Federal Reserve Market-Implied Fed Tightening to End 2018
(Chart courtesy of Zerohedge.com).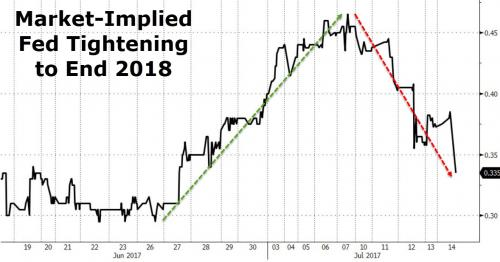 The new Market-Implied Fed Tightening to End of 2018 has just 0.335% bps of rate hikes (0.25% each) left until 'Neutrality' is reached (i.e. 1.34 rate moves). This has fallen recently from a path of a total of three (1 more in 2017 & 2 in 2018) three weeks ago. This highlights the behind the scenes seeming imperative by Creditors to keep the Mortgage market viable. It is my contention that unless mortgage rates stay at or below these current levels, demand for mortgage loans will dry up. The window of opportunity for borrowers seeking mortgage refinancing & home purchases is still open for now, but for how long?
December Rate-Hike Odds plunge to 42% (Chart courtesy of Zerohedge.com).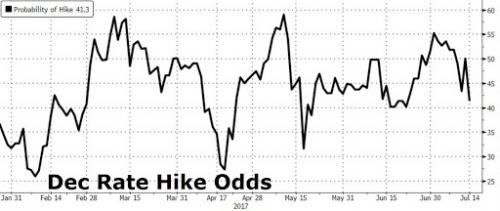 The Chart above shows that in the last few days the Odds of a December 2017 Rate-Hike have plunged from over 55% to near 40% levels.
The original Dot Plot path says seven more rate hikes (1.75% bps) in the next year and a half to end of 2019. It looks like we'll be lucky to get one more rate hike before the Fed tells us that it is reversing course and lowering Fed Funds target back to emergency levels again.
The Mortgage Index shows very subdued volumes of Mortgage Refinance activity since the election in November 2016. Activity peaked last summer in early July with the Refi Mortgage Index hit 2900 and cratered after September to below 1200. The 4.00% 30 Yr. Mortgage Rate is a crucial threshold for Mortgage Refinance activity; hence the sensitivity when that level is breached.
Refinance Mortgage Index slumps to 1210 due to slight Rate Rise
(Chart courtesy of Zerohedge.com).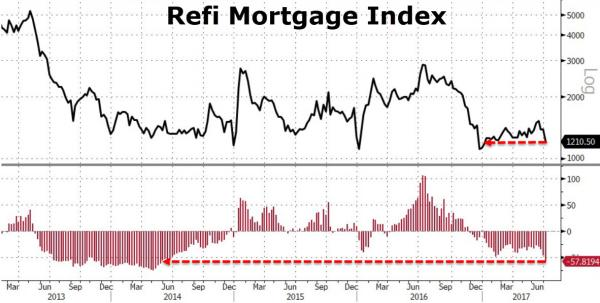 As can be seen from the above Chart, quantitatively small increases in the 10 Year U.S. Treasury Note can have an outsized impact on 30 Yr. Mortgage rates and significantly impact the volume of Mortgage Refi Applications in the pipeline as well as the overall Refinance Mortgage Index. Refinance borrowers are more rate sensitive than home purchasers as to the Mortgage interest rate they can get. If it doesn't help them lower their loan servicing costs they stop searching for refinances immediately…
Weekly Mortgage Rates Analysis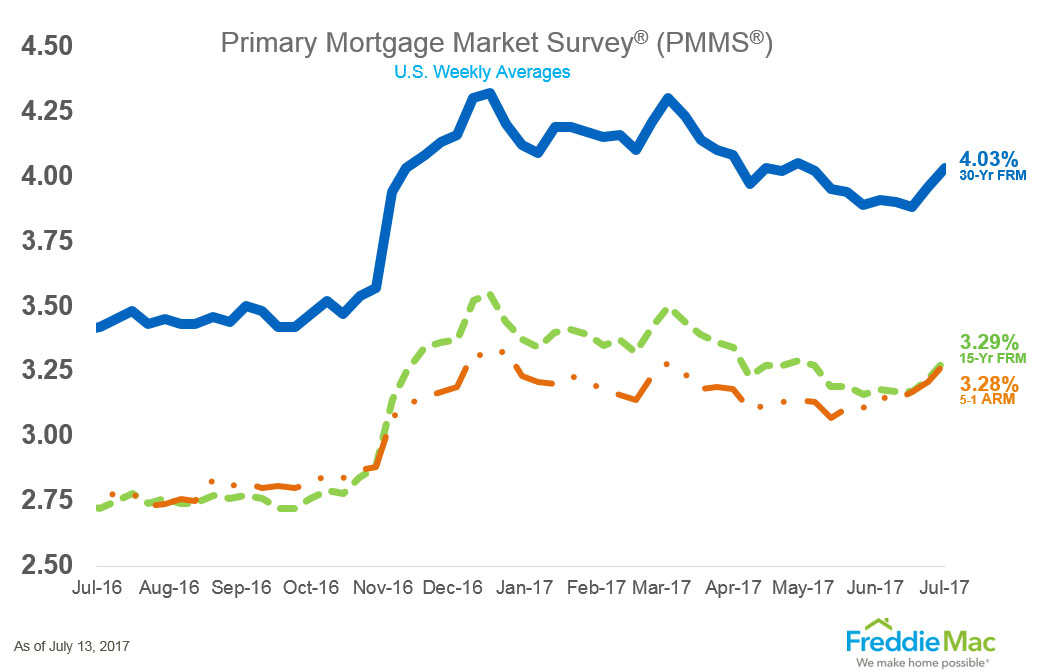 As can be seen from Freddie Mac's Mortgage Market Survey, last week, 30 Yr. Fixed Mortgage rates for conforming loans hit 4.03% rising another 0.07% basis points from the previous week.
Treasury Prices Fall and Yields Rise for U.S. 10 Yr. and 30 Yr. Treasuries.
At the Chicago Board of Trade (CBOT): the US 10 Year Treasury Note futures Contract for September settlement closed at a price of 125'13 / 32nds; the 10 Year Note was down 3.5 basis points (bps) on the day, yielding 2.3444%. The US 30 Year Treasury Bond futures Contract for Sept. settlement closed at a price of 152'06 / 32nds; the 30 Year Bond was down 19 basis points (bps) on the day, yielding 2.9172%. Mortgage Rates have come off their 2017 lows and are up 0.07% bps from the previous Freddie Mac Survey last week.
Thanks to ZeroHedge.com and FreddieMac.com for Charts and Graphics.