5/1 ARM Lenders

5/1 Adjustable Rate Mortgage (5/1 ARM)
5/1 ARM - the rate is fixed for a period of 5 years after which in the 6th year the loan becomes an adjustable rate mortgage (ARM). The adjustable rate is either tied to the 1-year treasury index or to the one-year London Interbank Offered Rate ("LIBOR"), and is added to a pre-determined margin (usually between 2.25-3.0%) to arrive at your new monthly rate. Ask what the margin, life cap and periodic caps of your ARM will be in the 6th year. The loan is fully amortized (or paid off) in 30 years if the normal payment schedule is followed. (Also see anatomy of an ARM for additional information).
Current 5/1 ARM Rate Quotes

(other loan programs too)
Just One Click! = Today's Rate Chart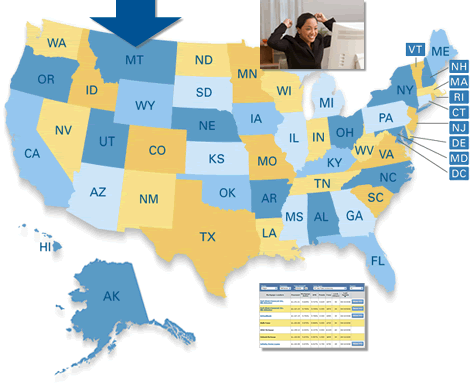 When considering a home purchase, you have a wider variety of mortgage choices than ever before. One of the most asked after, and potentially misunderstood, mortgages is the Adjustable Rate Mortgage (ARM). The ARM is a mortgage option where the interest rate can increase or decrease. In contrast to typical fixed-rate mortgages, the monthly payments may vary according to agreements and lenders.
ARMS are touted as a deal for borrowers, as the average ARM rate is usually less than the average interest rate for fixed-rate mortgages. This translates to lower monthly payments. What's not to love?
These mortgages can in fact be great deals, especially the 5/1 Adjustable Rate Mortgage, in which the ARM rate stays steady for five years. But borrowers should do some careful research and be aware of risks prior to enlisting.
First, let's look at how ARM rates are calculated. For many typical ARMs, the lender uses a low and attractive rate in the first year to entice borrowers. For mortgages that are adjusted each year, known as 1/1 mortgages, the rate becomes tied to a publicly known index such as Treasury bills. On top of this index, the lender adds a "margin," typically about 2.75 percent, to create a new and higher interest rate.
Under this model, an ARM that starts at 5.75 percent can increase to 7.75 percent in the second year, to 9.75 percent in the third year, and 11.75 in the fourth year. This means monthly payments will nearly double.
ARMs under the 5/1 model are much more secure. Adjustments only begin after five years. However, at that point, adjustments will commence each year, capped by the maximum two percent increase (some 5/1 ARM's are capped by the maximum of five percent on the first adjustment - be sure to ask your loan officer about this and read your Promissory Note carefully).
Do you plan to remain in your home for only a short time? If you will be in your house for less than five years, you will probably save money by opting for the ARM. The total cost will be less than that with a fixed rate.
Want to qualify for a larger loan? A lower initial interest rate, compared to those of fixed-rate mortgages, may mean lower payments. This might help you qualify for a bigger loan and a more desirable home than you would normally.
Want a short-term boost to finances? The money you save with adjustable rate mortgages each month could be directed towards investments, college savings, retirement, home expenses, or more.
If you are looking to stay in your house for the long term, even 5/1 adjustable rate mortgages may not be appropriate. The yearly increase in rates after the initial five-year period can bring some risk into your finances that fixed-rate mortgages would not.
How do you compare adjustable rate mortgages? It's more complex than simply comparing fixed interest rates, monthly payments, fees, and more. Instead, comparing ARMs, you need a lot more information. Consider the terms and considerations below:
Index: The basis for the monthly interest rate. This will depend by lender, and can directly influence how much your monthly payments will be
Margins: This is the mark-up by lenders. The index rate + margin will equal your ARM rate.
Caps: Interest rate and payment caps limit how much your payments will increase at each adjustment. Interest rate caps will either limit the amount your rate can increase from one adjustment period to the next, or how much the rate can increase over the life of the loan. Alternatively, a payment cap will limit how much your monthly payment can increase at each adjustment.
Negative Amortization: Amortization occurs when payments are large enough to pay interest plus some of the principal. Negative amortization occurs when payments don't cover the interest, the unpaid amount is added back to the loan, and the total amount increases. This usually occurs when ARMs have payment caps, so consider this when looking at different loans and cap options.
Convertibility: Can you convert your ARM to a fixed-rate mortgage if you wish, down the road? Find out about this option, as well as the fees involved.
1 Year T-Bill Index History - (Index often used with 5/1 ARM)
Jan
Feb
Mar
Apr
May
Jun
Jul
Aug
Sep
Oct
Nov
Dec
2016
0.54
0.53
0.66
0.56
0.59
0.55
0.51
0.57
0.59
0.56
2015
0.20
0.22
0.25
0.23
0.24
0.28
0.30
0.38
0.37
0.26
0.48
0.65
2014
0.12
0.12
0.13
0.11
0.10
0.10
0.11
0.11
0.11
0.10
0.13
0.21
2013
0.15
0.16
0.15
0.12
0.12
0.14
0.12
0.13
0.12
0.12
0.12
0.13
2012
0.12
0.16
0.19
0.18
0.19
0.19
0.19
0.18
0.18
0.18
0.18
0.16
2011
0.27
0.29
0.26
0.25
0.19
0.18
0.19
0.11
0.10
0.11
0.11
0.12
2010
0.35
0.35
0.40
0.45
0.37
0.32
0.29
0.26
0.26
0.23
0.25
0.29
2009
0.44
0.62
0.64
0.55
0.50
0.51
0.48
0.46
0.40
0.37
0.31
0.37
2008
2.71
2.05
1.54
1.74
2.05
2.42
2.28
2.18
1.91
1.42
1.07
0.49
2007
5.06
5.05
4.92
4.93
4.91
4.96
4.96
4.47
4.14
4.10
3.50
3.26
2006
4.45
4.68
4.77
4.90
5.00
5.16
5.22
5.08
4.97
5.01
5.01
4.94
2005
2.86
3.03
3.30
3.32
3.33
3.36
3.64
3.87
3.85
4.18
4.33
4.35
2004
1.24
1.24
1.19
1.43
1.78
2.12
2.10
2.02
2.12
2.23
2.50
2.67
2003
1.36
1.30
1.24
1.27
1.18
1.01
1.12
1.31
1.24
1.25
1.34
1.31
2002
2.16
2.23
2.57
2.48
2.35
2.20
1.96
1.76
1.72
1.65
1.49
1.45
2001
4.81
4.68
4.30
3.98
3.78
3.58
3.62
3.47
2.82
2.33
2.18
2.22
2000
6.12
6.22
6.22
6.15
6.33
6.17
6.08
6.18
6.13
6.01
6.09
5.60
1999
4.51
4.70
4.78
4.69
4.85
5.10
5.03
5.19
5.25
5.43
5.55
5.84
1998
5.24
5.31
5.39
5.38
5.44
5.41
5.36
5.21
4.71
4.12
4.53
4.52
1997
5.61
5.53
5.80
5.99
5.87
5.69
5.54
5.56
5.52
5.46
5.46
5.53
1996
5.09
4.94
5.34
5.54
5.64
5.81
5.85
5.85
5.83
5.55
5.42
5.47
1995
7.05
6.70
6.43
6.27
6
5.64
5.59
5.75
5.62
5.59
5.43
5.31
1994
3.54
3.87
4.32
4.82
5.31
5.27
5.48
5.56
5.76
6.11
6.54
7.14
1993
3.50
3.39
3.33
3.24
3.36
3.54
3.47
3.44
3.36
3.39
3.58
3.61
1992
4.15
4.29
4.63
4.30
4.19
4.17
3.6
3.47
3.18
3.30
3.68
3.71
1991
6.64
6.27
6.40
6.24
6.13
6.36
6.31
5.78
5.57
5.53
4.89
4.38
1990
7.92
8.11
8.35
8.40
8.32
8.10
7.94
7.78
7.76
7.55
7.31
7.05
1989
9.05
9.25
9.57
9.36
8.98
8.44
7.89
8.18
8.22
7.99
7.77
7.72
1988
6.99
6.64
6.71
7.01
7.40
7.49
7.75
8.17
8.09
8.11
8.48
8.99
1987
5.78
5.96
6.03
6.5
7
6.8
6.88
7.03
7.67
7.59
6.96
7.17
1986
7.73
7.61
7.03
6.44
6.65
6.73
6.27
5.93
5.77
5.72
5.8
5.87
1985
9.02
9.29
9.86
9.14
8.46
7.8
7.86
8.05
8.07
8.01
7.88
7.68