Credit Issues and Advice

Questions/Tips
Feds freeing up credit scores
by Broderick Perkins

(2/9/2011) The same law that gives you free access each year to your credit reports, now also gives you free access to your credit score -- under certain circumstances.
"Risk-based pricing," a lender practice that ties the cost of credit to your credit score, is key to the amended federal rule.
First, a credit score is a numerical rendition of your credit worthiness based on information on your credit report. Credit scores are widely used in the mortgage application process to determine both your ability to pay the debt and the likelihood you won't default.
Scores are also used by insurance companies, property managers, even employers.
If you apply for credit and the lender uses risk-based pricing and you get approved for credit, but at less than the best terms, the lender has two options, based on rules effective Jan. 1, 2011, as part of the Fair and Accurate Credit Transactions (FACT) Act of 2003, which amends the older Fair Credit Reporting Act (FCRA).
• Lenders can send you a Risk Based Pricing Notice which explains that your credit report was used to set your credit terms. It also explains where to get a free credit report and it reminds you to check your credit report for errors that could have caused the decision. It does not contain your credit score.
• Lenders can send you a Credit Score Disclosure Notice which says your credit score was used to make the lending decision, the date that score was accessed and the credit reporting agency used in the decision. This notice includes your credit score, it explains how your credit score compares to others and it tells you how to get your credit report. If credit is secured by residential property, the notice will also provide up to five factors that adversely affected your credit score.
Lenders also can send the Credit Score Disclosure Notice to all approved applicants, no matter what terms the lender granted.
Herb Weisbaum, AKA "ConsumerMan" for MSNBC contacted nine lenders to determine which form they'd use.
"Six responded. Wells Fargo and Capital One say they use the Credit Score Disclosure for credit card customers. But Bank of America, Discover, American Express, and SunTrust Bank have opted for the Risk-Based Pricing notice the one that does not include the free credit score," Weisbaum wrote.
The rule for disclosures when credit is denied, remains the same. If you are denied credit, lenders must send you an Adverse Action Notice in a format than can vary from lender to lender.
The notice should explain why you were denied credit, or how you can get more information about why you were denied credit. It should also supply the name and contact information for the lender and the credit agency that supplied your credit report. It also tells you how to get a free credit report. It does not include your credit score.
Free credit reports granted in the above scenarios do not count against your right to obtain a free credit report once a year, every year, from each of the three credit reporting agencies -- Equifax, Experian, TransUnion -- through AnnualCreditReport.com. You can still get those three credit reports every year at no cost.
You also have the option to buy your credit score at a nominal fee of about $10 to $15 from each of the three credit reporting agencies.
The new federal rule will expand in July this year to eliminate the disclosure options and force all lenders to give the Credit Score Disclosure Notice, with a free credit score, to applicants who are either denied credit or approved at less than the most desirable terms, if the score was used to make the decision.
Other Related Articles:
Pay rent, boost your credit score
Higher market risk-based mortgage fees coming
Federal consumer watch dog needs vice-grip bite
Due to CARD Act, Some Banks Cut Fees
Fannie Mae & Jumbo Mortgage Rates
Just One Click! = Current Rate Chart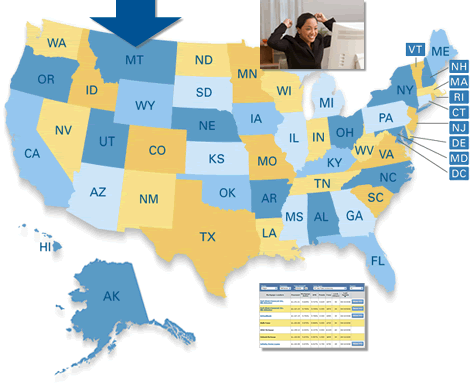 ---