Top Mortgage Websites

Mortgages
ERATE REVIEW: Amerisave.com
by Amy Lillard
Featuring an extensive website with a wide array of mortgage and investment products, Amerisave.com is a useful and interesting resource for homeowners and other borrowers seeking the inside scoop.
Amerisave, one of the largest retail mortgage lenders in the country with over 1500 employees serving customers across the country, designed their website for a simple purpose:
Amerisave.com was designed to make shopping for mortgages easy and straight forward. You can shop, apply and lock in your rate in minutes. Our technology shops your mortgage requirements to most of the large mortgage banks in seconds.
To do this, the website's homepage has today's mortgage rates for standard, jumbo, fixed-rate, ARM and FHA mortgages clearly noted, as well as a quick and easy input box for a personalized mortgage rate quote within 10 seconds. To stop anxiety and make the mortgage process even easier, the homepage also features an article on "How to Get the Best Mortgage Rates," instructing borrowers on comparing rates and things to watch out for.
The product range offered by Amerisave.com features all mortgage products, including VA, USDA, Non Conforming, Alt A, Reverse Mortgage, and Full Eagle Direct Endorsement with FHA. But they also go further, offering refinancing, home equity loans, and even CDs, insurance and credit cards. Amerisave offers in-house processing, underwriting, closing, and funding.
The website dedicates pages to each product, featuring current rates, access to instant quotes, and most importantly, educational articles and links. The information is helpful, easily accessed, and given perspective by an interesting feature – the live customer satisfaction survey. Real customers and their opinions on the Amerisave.com experience are featured on each page and can lend confidence and clarity to the process for new borrowers.

The Amerisave.com website also dives in-depth to the features that differentiate Amerisave from other lenders, including the Upfront Mortgage Lender (UML) designation, which assures customers fair treatment in all dealings as well as a fair and accurate interest rate and closing cost quote.
Overall the Amerisave.com website is easily navigable, logical, and helpful for borrowers. Amerisave makes good on its promises for fairness and simplicity with their website, detailing their products nicely and offering educational background to ensure a more knowledgeable, pleasant experience for borrowers. Amerisave.com is a powerful tool for those researching for the future, and those looking to buy now.
For further reading:
Amerisave.com Homepage: http://www.amerisave.com/
Fannie Mae & Jumbo Mortgage Rates
Just One Click! = Current Rate Chart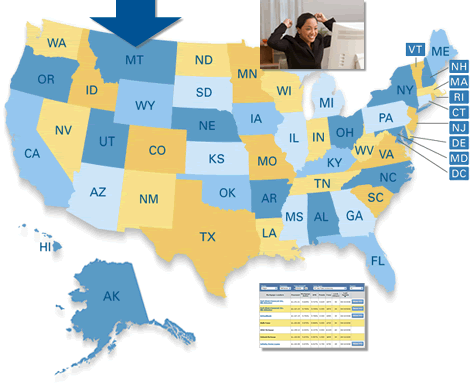 Educate Yourself in Honor of National Consumer Protection Week
Home Sweet Apps let your fingers do the walking through the housing market

---